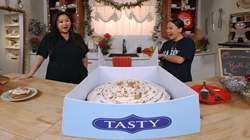 "We wanted VR viewers to feel like they're just hanging with Tway in her kitchen"
LOS ANGELES (PRWEB) January 20, 2023
The latest season of BuzzFeed's giant-sized food show "Making It Big" required an innovative approach to both satisfy current fans of the 2D show on Tasty's YouTube channel (21M subscribers) and new viewers of the VR edition in Meta Horizon World, "Mega Tasty," and Meta Quest TV. Butcher Bird solved the challenge by adding Canon's stereoscopic VR lens to a multi-camera broadcast television workflow.
The two versions of the show demanded a different style and pace, but the production schedule and massive food creations — such as a 50-Pound Gummy Bear or 30-Pound Cinnamon Roll — required everything to be filmed simultaneously, without changing setups to accommodate the separate needs of 2D and VR. Butcher Bird's Steven Calcote, this season's director, explains how their framing of host Twaydabae created an additional challenge: "We wanted VR viewers to feel like they're just hanging with Tway in her kitchen as she speaks directly to them. But that meant the VR camera also had to supply the 2D wide shot, since we couldn't shoot multiple takes."
The production team developed a unique workflow based on their experience creating several VR shows with Canon over the last year and filming with the Canon RF5.2mm F2.8 L Dual Fisheye lens. Butcher Bird Executive Producer MeeRa Kim shares their findings: "The combination of that lens with a Canon EOS R5 was the first time we'd seen VR footage with enough resolution and quality that we could extract a beautiful 16x9 image at the same time. Therefore, we knew this setup would also create a perfect wide shot for our 2D show. We were then able to cut and color it seamlessly with the other Canon EOS Cinema Cameras on the show: two C-300 Mark III's for coverage and a C70 for overhead inserts."
While the hybrid shooting format supplied editorial with ample 2D and VR footage, Lead 3D Editor Mason Ross explains the additional challenge of matching styles between two mediums: "VR generally favors longer shot lengths to keep viewers comfortable and oriented. But the previous 2D seasons of 'Making It Big' had already established a fun, kinetic cutting style with shot lengths averaging around 2.5 seconds. So we matched that energy in VR by adding floating 2D windows of alternate video angles, locked-off jump cuts to speed up time, and dynamic VR graphics layers."
Fans who watch both versions of an episode will experience a different perspective on making giant food with Tway, but Calcote admits the VR headset version results in the most visceral thrills: "When she pours gallons of hot cherry liquid into a giant gummy bear mold right in front of you, you're gonna instinctively lean back to give her more room!"
All six episodes—in both VR and 2D formats—are now available:
Watch in 2D at BuzzFeed's Tasty Channel on YouTube
Experience in VR on Meta Quest TV
See it with friends in Meta Horizon Words at the "Mega Tasty" VR Burger Theater
Go behind the scenes to see how Butcher Bird created this hybrid series
About Butcher Bird
Butcher Bird is a creative content company that leverages cutting-edge technology to tell the stories of the future. They offer a unique blend of creativity and innovation, bridging the gap between brands and non-traditional talent and media to engage new audiences. Their client portfolio includes forward-thinking entertainment and commercial companies such as Netflix, Twitch and TikTok, among many others.