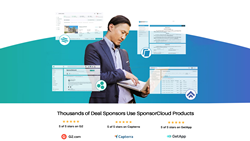 We are excited to help move our industry forward by helping deal sponsors truly adopt digital transformation and grow their business.
SALT LAKE CITY (PRWEB) January 24, 2023
As the leader in real estate investment management software, SyndicationPro is helping real estate deal sponsors and fund managers to raise more capital and close more deals.
Starting in 2016, SyndicationPro's founders, which consists of experienced deal sponsors and technologists, partnered to bring best-in-class technology to move the real estate investment industry forward.
A year ago, SponsorDocs was launched and has completely transformed the way deal sponsors obtain their syndication legal documents.Today, thousands of users around the world are leveraging these innovative tools to raise capital more efficiently, close more deals, and grow exponentially. In this new year, the SyndicationPro team is pleased to announce the launch of two new product offerings that will serve alongside their current solutions to provide a complete platform suite called SponsorCloud.
This rebrand takes place to ensure cohesiveness between SyndicationPro, the #1 Capital Raising & Investment Management Software, and subsequent products that its founders have built to provide the best, white-glove experience to sponsors throughout their entire business cycle.
Under the corporate umbrella of SponsorCloud, customers will be able to access any and all of SponsorCloud's products, which currently include: SyndicationPro, SponsorDocs, SponsorNetwork, and SponsorAdmin.
Co-founder and CEO, Jacob Blackett, explains the company's purpose and mission is to "give sponsors a competitive advantage to scale their business stress-free by adopting innovative technology, products, and services."
While no changes are being made to the SyndicationPro product, customers will notice a newly updated website which includes a header menu linking back to SponsorCloud's main site. This will allow active users and interested prospects to discover more about the different products and features that are available.
Through this rebrand, SponsorCloud is able to continue leading the syndication market space by bringing the best tools to the hands of active deal sponsors and fund managers in an easy-to-use and simple-to-access manner.
SponsorCloud
By Sponsors. For Sponsors.
Website: sponsorcloud.io
Follow us on our social networks
Twitter: @synproapp
LinkedIn: @syndicationpro