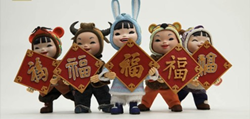 WASHINGTON (PRWEB) January 20, 2023
CGTN America releases "Year of the Rabbit Spring Festival Gala"
On January 22, China's 12-year zodiac cycle welcomes the Year of the Rabbit. In Chinese astrology, rabbits symbolize longevity, peace and prosperity. They also represent a specific time of day – the hours of 5 am and 7 am – "when the sun has just surfaced but has not yet risen, and when the moonlight has not yet faded," says Chinese folk culture expert, Zhu Yi.
On January 14, to celebrate the Chinese New Year, CMG officially released its first animated promo for 2023 Spring Festival Gala. This video uses a special form of stop-motion animation to convey a vibrant atmosphere of the Spring Festival.
In real-life, hares – a phylogenetic cousin of rabbits – can reach a top speed of around 72 kilometers per hour. So, it is perhaps fitting that China Media Group (CMG) will broadcast this year's Spring Festival Gala in 5G – the fastest wireless transmission speed.
CMG will also transmit the four-and-a-half-hour broadcast in the highest available resolutions – 4K/8K – and will be powered by AI. When this technological extravaganza airs on January 21 (Chinese New Year's Eve), CMG will beam it outdoors across the country – onto giant, immersive, ultra-HD screens in the public squares of an estimated 500 Chinese cities.
This year marks the gala's 40th anniversary. Since the inaugural broadcast in 1983, watching the show has become an annual family tradition. That means hundreds of millions of viewers in China alone, enabling the program to set a Guinness World Record for the "Most-watched national network TV broadcast."
The Lunar New Year is China's most important festival—and a time for family reunions. Each year, the Spring Festival holiday witnesses the world's largest annual human migration. In 2023, the first day of travel, January 7, logged 34.7 million passenger trips. The Chinese Ministry of Transport forecasts 2.1 billion trips this year – an increase of nearly 100 percent from 2022.
The "flower" is the show's main symbol this year. For the Chinese people, flowers express prosperity and vitality. The broadcast, called Chunwan in Mandarin, will feature Chinese mythical creatures and architectural motifs from the Forbidden City – all created with CGI.
Watching the show is becoming a global event, too. Thanks to technology, it will be available in more than 160 countries and regions.
FOR IMMEDIATE RELEASE. (This material is distributed by MediaLinks TV, LLC on behalf of CCTV. Additional information is available at the U.S. Department of Justice, Washington, D.C.)