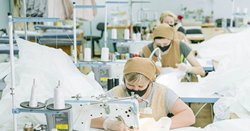 DALLAS (PRWEB) January 24, 2023
Mercado Labs, an import order management system (iOMS) that is boosting businesses' profits by changing the way they manage their import orders, today revealed a new product for small-to-medium businesses (SMBs) to accelerate the digital transformation of their import supply chains.
A spokesperson for the company explained that "Mercado Lite" would, for the first time, enable small-to-medium-sized importers to digitally manage their purchase orders — without the heavy implementation and costly investment that legacy import management systems require today.
Such platforms tend to require on-premise installation, provide limited connectivity with suppliers, and require an expensive months-long configuration and installation process. With costs that quickly exceed $1 million per year, import order management technology has been largely impractical for all but the largest importers.
Mercado began to change that when it launched two years ago, providing the world's first comprehensive, cloud-based import order management system to connect importers and their suppliers in a fully digital, networked, and automated environment that implements standard import management protocols. Costing less than 10% of legacy systems, Mercado made import order management systems accessible to an entirely new class of importers.
Now, with the launch of Mercado Lite, Mercado has done it again. By eliminating the need for time-intensive configuration and by introducing a new tier with a monthly cost of just $999, Mercado Lite now ensures that virtually every importer can implement a best-in-class import management system.
In recent years, import supply chain challenges have been making headline news. Disruptions caused by COVID-19, trade wars, geopolitical instability, and shortages have exposed fragilities already existing in the industry, and highlighted the need for greater resilience in the way the supply-side manages the planning, buying, manufacturing, and moving of products.
Even so, most importers today lack dedicated systems for tracking, updating, and managing their import orders. Once a purchase order is generated by the importer's enterprise resource planning (ERP) system, it typically is transmitted via email as a PDF with every subsequent update, change order, and approval communicated via email. Without an import order management system that organizes that information and provides a single source of truth shared by importer and supplier alike, costly errors and delays become inevitable.
Early adopters of Mercado Lite are already seeing it make a difference in their businesses.
"We're already realizing great results," said Harlan Beverly, VP of Engineering and the technical lead behind Mercado's latest launch. "Small-to-medium importers who have been using the platform are already seeing errors on orders reduced by 75% thanks to our built-in change controls, with 55% more shipments arriving on-time."
Supplier feedback has also been extremely positive, opening up a new way to communicate and engage with partners who are often based thousands of miles away. "In-app messaging and tracking has enabled suppliers to also benefit from real-time order data," added Beverly. "Teams no longer need to work off homegrown spreadsheets, faxes, or PDFs, but from a single, digital order. It sounds simple — and that's because it is! Manual errors and miscommunication sit at the heart of where things go wrong for importers today, and we wanted to create a no-fuss solution to fix it."
Importers who sign-up for Mercado Lite will get immediate access to change control features, tracking, approvals, milestones, and alerts to notify importers of any delays or issues with their orders.
Mercado Lite also provides unlimited user accounts for an importer's suppliers, enabling both internal teams and manufacturing partners to access a shared single source of truth and collaborate to deliver orders on time. Most importers are able to begin using Mercado Lite to manage import orders immediately, without the need for complex integrations with existing ERP or warehouse management systems (WMS).
Mercado is on a mission to change the way importers trade, transact, and interact. Our platform is the world's first import order management system (iOMS) that connects importers with their suppliers in a shared environment for executing, managing, and shipping orders. It's digital, networked, and automated. Ensuring you and all parties share a single source of truth for every order.
To find out more about how Mercado Lite is helping small-to-medium importers improve their bottom line and begin their digital transformation journey, head over to Mercado Lite.