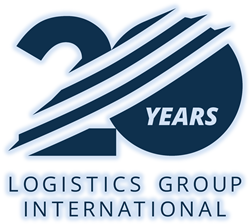 "LGI has come a long way since its start in 2002. Technology has helped accelerate our growth, but no amount of tech will ever replace the relationships we build with our customers and carriers. Relationships are the key to our growth and success." - Stephen Day, CEO
HOUSTON (PRWEB) January 24, 2023
During the past two decades, Logistics Group International has been able to grow its carrier network, enhance its service offering, and implement technology to ensure its clients obtain the most efficient services possible.
"LGI has come a long way since its start in 2002. Technology has helped accelerate our growth, but no amount of tech will ever replace the relationships we build with our customers and carriers. Relationships are the key to our growth and success." -Stephen Day, CEO of Logistics Group International.
Logistics Group International has worked hard during these years to build trust and strong relationships with customers and carriers, always providing top-tier services thanks to their vast industry knowledge. Their service levels have allowed them to do business with some of the largest customers in North America and more than ten different industries.
LGI started in a small home office in Houston, Texas, in 2002. Since then, the company has expanded nationwide, opening new offices, obtaining multi-million-dollar contracts, opening new lines of business, and generating incredible revenue growth.
The company continues to be committed to becoming its client's number-one option when searching for third-party logistics partners. Moving forward, LGI will continue enhancing its service offerings through technology implementation, unmatched customer experiences, and robust business relationships with companies within the transportation and logistics industry.
About Logistics Group International
Logistics Group International (LGI) is a third-party logistics provider established in 2002. LGI specializes in managing full truckload shipments within the U.S., Mexico, and Canada through a vast carrier network. From a simple pallet to complex project movements requiring multiple modes of transit, LGI has decades of experience ensuring your cargo gets to its destination on time and within budget. Visit http://www.lgiinc.com.