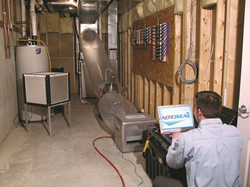 Aeroseal was recently singled out as a pivotal new energy-saving technology by Bill Gates, co-chair of the Bill & Melinda Gates Foundation and founder of Breakthrough Energy.
MIAMISBURG, Ohio (PRWEB) January 25, 2023
Aeroseal's breakthrough approach to sealing the ductwork and outer envelope of homes and buildings was recently singled out as a pivotal new energy-saving technology by Bill Gates, co-chair of the Bill & Melinda Gates Foundation and founder of Breakthrough Energy. In his recent letter, The Year Ahead 2023, Gates described aeroseal technology as a crucial new emissions-reducing solution that offers building and homeowners dramatic energy savings through increased efficiency.
In the letter, Gates describes the aeroseal process, which emits sealing polymer into pressurized spaces to fill energy-wasting gaps found in ductwork and building envelopes.
Along with aeroseal's use by energy-conscious homeowners to seal their homes' ductwork, Gates explained how the technology has already attracted the attention of the construction industry as well. "Thanks to deals with several large homebuilders and developers in the United States and Canada, Aeroseal has already sealed 250,000 buildings," wrote Gates. "Within three years, the company hopes to be doing that many every year."
HOME ENERGY SAVINGS
In their report Unlocking Energy Efficiency in the U.S. Economy, research firm McKinsey and Company ranked residential duct sealing at the very top of the list as potential for increased home energy efficiency in existing non-low-income homes. At the same time, the report ranked the duct sealing application as one of the lowest cost-per BTU saved.
"More than upgrading windows or insulating walls and attics, aerosealing ductwork makes a real difference in improving home energy savings," said Amit Gupta, president of Aeroseal LLC. "We estimate that, on average, 30% of all the air heated and cooled in residential homes today is lost through duct leaks. For the first time, there is a simple way to seal those leaks without having to tear into walls or replace expensive duct work."
Unlike traditional manual duct sealing using tape or mastic, aeroseal technology works from the inside of the ductwork to seal leaks. An aerosol-mist of sealant is blown throughout the interior of the ductwork where the microscopic particles of sealant remain suspended in air until they reach a leak. Tere, they cling to the edge of the hole and then to other sealant particles until the leak is completely filled and covered. This inside-out approach makes it easy to reach and seal all the leaks – even those found on ductwork that is hidden behind walls, under insulation or other hard-to-access locations.
"Aeroseal has proven to be a highly cost-effective means of sealing ductwork in both new and existing structures," said Gupta. "Most importantly, it's quicker and much more effective at sealing leaks than other method.
In his The Year Ahead 2023 letter, Gates noted that the climate-focused investment fund, Breakthrough Energy Ventures, now has more than 100 companies in its portfolio. Aeroseal LLC is among those making a real difference, offering homeowners, building contractors and others, significant emissions-reducing energy-saving solutions today.
More information on aeroseal technology can be found on the Aeroseal LLC website or by calling (877) 349-3828.
# # #