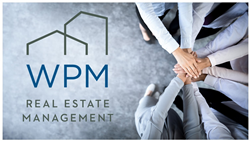 These individuals bring extensive knowledge and experience to their roles and will be instrumental to WPM's continued growth and expansion
OWINGS MILLS, Md. (PRWEB) January 25, 2023
WPM Real Estate Management, one of the premier property management organizations serving the Mid-Atlantic region, recently announced multiple promotions within the company as part of its strategic plan for growth and continued success.
Michael "Mike" Mangum has been promoted to Director of Operations for WPM's Maintenance and Construction Services Division. Since joining WPM 14 years ago as a service technician, Mike has continued to take on additional responsibility within the Multifamily Real Estate Division, serving as Service Manager for 10 years and eventually being promoted to Maintenance Operations Advisor in 2021. He has been critical to WPM's operations, training, and overall success. His move into this new role is part of strategic restructuring within the division that will allow the company to expand its services offerings and create greater cross-company collaboration on maintenance and services, resulting in increased value for clients.
Rita Dore has been promoted to Senior Commercial Manager for WPM's Commercial Real Estate Division. Most recently, she served as a Community Association Manager with the Association Real Estate Division. During her 17-year tenure with WPM, Rita has held roles in the Association, HR, Commercial and Services divisions. She has strong relationships with clients and in-depth knowledge and experience with WPM's processes, technologies and operations. Her added leadership in WPM's Commercial Real Estate Division will help drive continued growth in this line of business.
"We're excited to have Mike and Rita stepping into these leadership positions to help us grow these two divisions," says CEO James Dahlgren, Jr. "Both of these individuals bring extensive knowledge and experience to their roles and will be instrumental to WPM's continued growth and expansion."
Herman Martin has been promoted to replace Mike Magnum as the Maintenance Operations Advisor for the Multifamily division. He joined WPM in 2021 and has over 30 years of industry experience. Well versed in the service needs of the division, Herman provides continuity to the role with his expertise and proven track record. As part of the strategic restructuring, this position will move under the Maintenance & Construction Services Division reporting to Mangum, while maintaining a focus to support the maintenance needs of the Multifamily Real Estate Division. "Herman is well respected by Associates and clients alike," says Dahlgren. "I am confident he will continue to deliver on WPM's commitment to service excellence in this new role."
About WPM Real Estate Management:
WPM Real Estate Management provides property management for over 26,000 homes and 50,000 people in the Mid-Atlantic and MidSouth regions, including Maryland, Pennsylvania, Delaware, and Virginia. The company holds designations as an Accredited Management Organization® (AMO®) and an Accredited Association Management Company (AAMC®). The company's primary focus is residential: multifamily, condominium, senior housing, student housing, and homeowner association communities. In addition, it has an extensive managed portfolio of commercial, industrial, and retail properties. WPM has ranked #1 on the Baltimore Business Journal List of Largest Residential Property Management Companies in the Baltimore Area year over year. The firm has also been recognized as one of Baltimore's Top Workplaces by The Baltimore Sun, ranking among the top large employers for 11 consecutive years. The company employs over 480 employees across more than 150 properties.
For more information about WPM Real Estate Management, visit the WPM website at http://www.wpmllc.com.
# # #