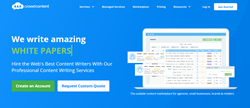 Leaders will only drive their business towards successful goals for 2023 with optimized content that puts people first
VICTORIA, B.C. (PRWEB) January 25, 2023
Crowd Content, a leading content creation service provider connecting talented writers and editors with businesses in need of high-quality, publish-ready content at scale, announced a 2023 expansion from North America to more European markets.
Starting with increased visibility in Europe, Crowd Content is a headline sponsor and exhibitor at brightonSEO, a biannual UK-based conference bringing together the best minds in the world of search. The event takes place April 20-21, 2023. With an expanded footprint, Crowd Content is supporting global brands, helping them reach their interconnected audiences with people-first content that produces tangible results.
In a highly competitive and interconnected online environment, brands must create content for the person, not the promotion. As a result, companies must strike a balance between creating content that caters to the reader's needs while successfully delivering brand touchpoints that generate leads and convert customers.
"In 2023, people-first content and SEO supremacy will make or break content success for major brands and companies," said Carlos Meza, CEO of Crowd Content. "The days of plugging in keywords to reach the top of search results are over. We look forward to joining the top experts and industry leaders at brightonSEO to share our insights on effective content strategy based on an understanding of the people businesses serve first — their customers — and what that audience wants to read. Leaders will only drive their business towards successful goals for 2023 with optimized content that puts people first."
Crowd Content offers numerous SEO-focused resources to its community, including recent webinars addressing "Scaling SEO Campaigns in 2023" and "SEO Clinics" with leading industry experts like Rand Fishkin, Lily Ray and Jeff Romero and a library of SEO-specific blog articles sharing technology insights, best practices and more.
To learn more about how Crowd Content is helping brands execute their content strategies with ease and excellence, visit https://www.crowdcontent.com/.
About Crowd Content
Based in Victoria, B.C., Crowd Content Media is a leading content creation service provider. Its platform connects talented writers and editors with businesses in need of high-quality, publish-ready content at scale. Crowd Content serves enterprise and SMB customers through its cloud portal, where it provides self-serve and fully managed content services.