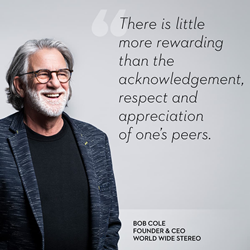 On the future of smart home integration, Bob Cole said: "The future is bright! People are learning how much a smart home contributes to their lifestyle. If you consider stay-at-home healthcare and wellness, that's the giant trend. What people come home to matters most. Family and home."
HATFIELD, Pa. (PRWEB) January 26, 2023
World Wide Stereo (http://www.worldwidestereo.com), one of the nation's leading independent retailers of consumer electronics, has been selected as the winner of the 2023 Integrator of The Year Award by the Consumer Technology Association's (CTA) Smart Home Division as part of their Mark of Excellence Awards.
The Mark of Excellence Awards, presented by the Smart Home Division of the Consumer Technology Association (CTA), recognize the best in custom integration and installed technology. Each year, manufacturers, distributors, and system integrators compete in more than 20 award categories for this coveted honor. All entries are judged by independent experts within the industry. The Integrator of the Year Award, specifically, recognizes the best smart home integrator in the industry. The winner exhibits outstanding business success, resource usage and comprehensive technical skills. The winner also shows exceptional quality in their professional installations and serves as a leader within their community and the industry.
"There is little more rewarding than the acknowledgement, respect and appreciation of one's peers," said Robert A. Cole, CEO and Founder of World Wide Stereo, "Every job we do carries our own mark of excellence and we are proud of it. Customers expect that excellence of our industry. They are entitled to it; after all, we are working in their homes. We look for their approval and strive to improve the quality of their lives. Each job is our opportunity to excel."
On the future of smart home integration, Bob Cole said: "The future is bright! It's always been about the home, and they need to be smarter. People are learning how much a smart home contributes to their lifestyle. If you consider stay-at-home healthcare and wellness, that's the giant trend. What people come home to matters most. Family and home."
On giving advice to other integration professionals new to the industry, Bob Cole said "Learn as much as you can. Establish values you can base your business on and stick to them no matter what. They have to be the rules of the company, no exceptions. Values like quality, integrity, excellence and honesty. This is what propels one's business."
The 2023 Mark of Excellence winners were recognized at CES 2023 during the Mark of Excellence Ceremony on January 6. To learn more about the awards and view all winners, visit cta.tech/MOE.
About CTA: The Consumer Technology Association (CTA) is the trade association representing the $505 billion U.S. consumer technology industry, which supports more than 18 million U.S. jobs. It's about ideas, large and small, that keep us connected, that help us move, that spark even bigger ideas. The Consumer Technology Association (CTA) convenes companies of every size and specialty in the technology industry to move us all forward.
About World Wide Stereo: World Wide Stereo is one of the nation's leaders in audio and video consumer electronics and offers an award-winning residential technology integration firm, two retail showrooms in the Philadelphia area, and an online e-commerce experience at http://www.worldwidestereo.com with 60-day returns and free shipping on all orders.
Since 1979, World Wide Stereo has been on the frontline for practical and innovative consumer electronics. Its stellar reputation for both integrity and quality is achieved with award-winning personal service, installation, and competitive pricing. World Wide Stereo's goal has always been to provide products that bring families together and give back to the community, working off of the foundation that boasts to "do well by doing good." A full service custom creative design and installation team bring to life the finest Audio, Video, Home Theater and Smart Home Integration products, turning customers' home technology visions into their reality. For World Wide Stereo's complete story, watch the video here.