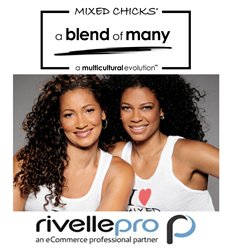 "As Black women in America, we want to continue to push the narrative that that nothing is impossible when you approach it with love, dedication, and a purpose." - Kim Etheredge, Co-Founder of Mixed Chicks
LOS ANGELES (PRWEB) January 26, 2023
Black History Month, three words, and a celebration packed into one short month at the top of the new year observed for over 100 years. Since 1976 every U.S. Presidential Administration has officially recognized Black History Month as a time to celebrate monumental and historical contributions African Americans have made to United States history. Every American President has always endorsed this historic month with a theme, and 2023 is no exception, with President Joe Biden designating the theme as "Black Resistance." Resistance is a word that reflects the spirit, triumph, struggles, and milestones that Black people have encountered historically, culturally, and systemically during their long tenure as citizens of the United States.
The word "resistance" is synonymous with terms like strength and opposition, reflected in the leaders who have come before us, paving the way for equality and freedom. It can be seen in the glass ceilings shattered by Shirley Chisholm, who was the first Black woman elected to congress; Dorothy Height, who served as the president of the National Council of Negro women for more than 40 years; or Bessie Coleman, who was the first licensed Black pilot. Black women have always been a pillar of strength, resilience, and a critical voice in advancing education, politics, liberties, and Black people. Today's generation does not need Women's History Month to honor the mothers, grandmothers, daughters, and aunties who blazed the trail before them; they are living testaments to their struggles and sacrifices in the history they make on their terms today. History is made every day with the Black women standing proudly on the shoulders of their ancestors to dream higher and more prominent than they could have ever imagined. None more so than the fantastic duo Kim Etheredge and Wendi Levy Kaaya, who created the legendary haircare brand Mixed Chicks.
Mixed Chicks sought to break the beauty barriers of traditional haircare by using their experiences growing up as biracial women to develop a haircare exclusively catered to combination hair. In 2002 Kim and Wendi met and slowly transitioned from acquaintances to business partners as they bonded over their shared experiences dealing with the highs and lows of having curly hair. As children from blended families, they encountered all the bumps in beauty care that came from products that were too oily or drying for their combination textured curls. With the limited availability of ethnic and general market products that worked on their blended texture, they often had to combine 10-15 products to achieve hydration, frizz-free, and healthy-looking curls. That bond led to a business when after researching and testing various ingredients, they came up with their staple, Mixed Chicks Leave-In Conditioner, and the rest became history. They could not only fill a missing gap in the beauty market but provide a quality option at an affordable price that had fantastic results on various combination hair.
Kim and Wendi founded Mixed Chicks in 2003 to provide quality products to multicultural women that would empower, inspire, and allow them to embrace their textured curls in any form. As pioneers of the natural hair movement, they were the first to create a brand, business, and products that directly targeted multicultural customers. They were deeply invested in ensuring the brand reflected who they were as entrepreneurs, mothers, and businesswomen who wanted to provide opportunities to support and recognize blended families and their textured hair. With over 20 years in the business, celebrity endorsements from fans like Halle Berry, Macy Gray, Deon Cole, and Sage Steele, international customers, nationwide retail, and a committed customer base have cemented their spot as change-makers in Black history.
Mixed Chicks is one of the few beauty brands still owned and operated by women of color, with Kim and Wendi proudly innovating, reinventing, and being the figureheads of their brand. In an era when large corporations are looking to capitalize on popular ingredients and profit from the trends created and popularized by Black people, Mixed Chicks still aims to fill any voids that the mass market cannot provide. It remains vigilant in not alienating its core customer by continuing to champion and advocate for all its customers regardless of age, gender, ethnicity, or race. Mixed Chicks has always been for everyone and will continue to be for everyone. As biracial women who embrace and celebrate being Black, Kim and Wendi foster partnerships within their community, non-profit organizations, influencers, and customers, that champion and reflect the advancement of Black people. For Mixed Chicks, Black History Month is not a buzzword to be used on a hashtag or social media post; it's an opportunity to use its global brand recognition to bring awareness and a spotlight to crucial and systemic issues still facing Black women today.
"Our goal was to solve hair woes of women, men and children across the globe by creating a haircare line that was inclusive instead of exclusive. As Black women in America, we want to continue to push the narrative that that nothing is impossible when you approach it with love, dedication, and a purpose. Being part of the solution instead of adding to the problem is the only way success and change will come. Making a conscious decision to treat everyone equally no matter their race, sex or religious preference is our biggest contribution to the world and is the legacy of Mixed Chicks." says Kim Etheredge, Co-Founder of Mixed Chicks..
Since 2017, Mixed Chicks has partnered with RivellePro for their Amazon business. As a trusted eCommerce distributor and partner, RivellePro is passionate about aligning with brands whose values reflect their own and has spent years partnering with Black and minority-owned brands to market their products to a wide array of customers. Their commitment to excellence and growth was recently recognized with their number 175 on the 2022 Inc. 5000 Annual List, which recognizes the fastest-growing private companies in America. Since RivellePro's inception in 2014, they have partnered with over a half-dozen multicultural skincare and haircare brands to provide brand growth and new clients on the Amazon platform.
During February 2023, RivellePro and Mixed Chicks are partnering to celebrate Black History Month through RivellePro's Amazon store, called "pricePRO," to offer 15%-20% off of all Mixed Chicks products. Customers can shop signature Mixed Chicks products via the store whether they need to restock on leave-in conditioner or invest in the 33 oz. full-size must-haves like the shampoo to keep the hair clean, deep conditioner to keep the curls hydrated, and the fan favorite leave-in conditioner to keep the curls poppin' all month long. Mixed Chicks not only cares about empowering their customers to love themselves but also supports and advocates for the people behind the scenes. The voiceless may not have the support, resources, or access to get the help they need to change their lives. As part of their partnership, a portion of all Mixed Chicks sales on Amazon through the pricePRO store will be donated to the Bobbi Kristina Serenity House. RivellePro's Amazon store, showcasing Mixed Chicks can be found here: https://www.amazon.com/mixedchicks
"We are proud of our partnership with Wendi, Kim and the Mixed Chicks team as we support Black History Month – as well as the Bobbi Kristina Serenity House. Business partnerships become something beautiful when personal core values and beliefs align with common goals in the business world. As a father of two amazing daughters, it is imperative that not only their parents are role models, but also to have trailblazers such as Wendi and Kim in the lives of young women." stated Tim Frailly, President of RivellePro.
The Bobbi Kristina Serenity House was founded by R&B legend Bobby Brown and Alicia Etheredge in honor of his late daughter, Bobbi Kristina, who tragically lost her life at the hands of domestic violence when she was 22 years old. Domestic violence is prevalent in every community, with studies showing over 31.8% of victims are Black women and the estimated cost of intimate partner violence in the US totaling $5.8 billion. The Bobbi Kristina Serenity House is a 501(c)3 non-profit domestic violence haven committed to eliminating the epidemic of domestic violence against men and women of all ages by raising awareness, providing resources, and creating safety for victims. With an average of 20,000 calls being made daily to the domestic violence hotlines nationwide, The Bobby Kristina Serenity House seeks to empower victims and survivors at risk by creating avenues for bringing awareness and advocacy to this ongoing crisis.
Bobby Brown added, "The Bobbi Kristina Serenity House would like to acknowledge and give thanks to Mixed Chicks and RivellePro for giving back to our cause during Black History Month. With their generous support we will maintain our focus to bring awareness and continue our movement to eliminate the epidemic of domestic violence. Let's all continue to commemorate the beauty in giving back."
Black History Month is not a concept or ideal; it's a continuation of the history that represents the resistance and resilience of Black people. It's not just President Obama or Beyonce; it's the evolution of Black people, culture, voices, and leadership in the spaces we continue to create for ourselves. It gives businesses like Mixed Chicks the freedom to be uniquely their own and not be limited in their success because they are women of color with a texture haircare line. It provides an opportunity to raise awareness for systemic issues like domestic violence and allows for partnerships like RivellePro and Mixed Chicks to honor and give back to the Bobbi Kristina Serenity House. Black History is daily and shows the nod to the past while we dance in the present and look boldly into the future.
Mixed Chicks is a Los Angeles, California based multicultural beauty brand. Mixed Chicks was founded in 2003 by Kim Etheredge and Wendi Levy Kaaya, and is owned and operated by them. Mixed Chicks' believes in the adage of "A Blend of Many" which is a perfect description of their personal beliefs, business values and product mix. For more information on Mixed Chicks, please visit: https://mixedchicks.net/
RivellePro is a leading eCommerce retail agency and distribution partner providing services on Amazon as well as other eCommerce marketplaces. RivellePro gives industry-leading brands in beauty, health & wellness, and other consumer packaged goods a turnkey approach so they can take full advantage of a robust eCommerce department. RivellePro provides eCommerce brand management, channel management, distribution, marketing, compliance, and logistical services for its brand partners. RivellePro was founded in 2014 and is headquartered in Boca Raton, Florida. For more information on RivellePro, please visit: http://www.RivellePro.com
For more information regarding The Bobbi Kristina Serenity House, or to make a direct contribution, please visit: https://BobbiKristinaSerenityHouse.org/
Written by Desiree Johnson. Desiree is a professional writer with over a decade of expertise in content writing, social management and branding. She strategically aligns with small and minority businesses to build brand awareness through content creation, influencer partnerships, social management, and ad expertise. For more information on Desiree Johnson, please visit: http://desiree-johnson-writer.squarespace.com/