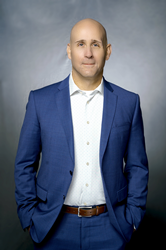 "We're in an unbelievably strong industry with high-quality products and talented people. We're really in a position for growth." - Mike Raths, CEO, Janitza LP
ASHBURN, Va. (PRWEB) January 26, 2023
Janitza LP, a provider of electrical power quality devices and software, announced today that Mike Raths has been named as Chief Executive Officer. Raths is a proven team leader, with a 25-year career that began in the US Marine Corps and spans 15 years in the private sector.
Raths' experience includes over a decade of sales leadership focused on the mission-critical Data Center, Telecommunications, and Construction Services markets. Throughout his career, he has demonstrated his deep commitment to exceeding revenue expectations while developing high-performing teams. Raths has extensive experience in the electrical product solutions space.
"I'm here to build and execute a strategy that helps our customers, adds value for our clients, and to be the champion supporter of this team," Raths said. "We're in an unbelievably strong industry with high-quality products and talented people. We're really in a position for growth."
Prior to joining Janitza, Raths built and managed the sales team at Atkore and its Construction and Prefab services division. He has also held leadership roles with Power Distribution, Inc. and Corning Incorporated. Additionally, Raths is a retired Officer in the US Marine Corps. While serving in the military, he was an aviator and completed three overseas deployments.
Raths received a bachelor's degree from the University of Arizona and an MBA from the University of California, Irvine.
About Janitza LP
Janitza LP is the North American arm of Janitza electronics GmbH, a leading German manufacturer of electrical power monitoring hardware and software. Janitza solutions enable customers to evaluate the quality of power in their facility and take action to reduce their energy costs, improve uptime, and decrease their carbon footprint. Janitza LP was established in 2018 and recently opened its US headquarters in Ashburn, Virginia.