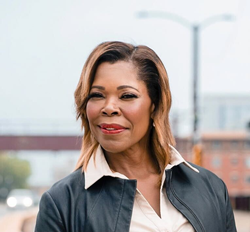 CHICAGO and HELSINKI (PRWEB) January 26, 2023
Revieve®, a global company enabling personalized brand experience solutions through its enterprise-grade beauty and wellness technology platform cross-category, cross-channel, and throughout the customer journey, today announced the appointment of Dee M. Robinson, founder and CEO of Robinson Hill, to its Advisory Board.
Robinson joins Revieve with a background in food & beverage, retail, consumer products, advertising and banking industries. Recognized for her entrepreneurial leadership and innovative solutions to drive business expansion and value creation, Robinson founded and serves as CEO of Robinson Hill, a concessions management firm specializing in retail and food service at airports and non-traditional venues. Robinson's comprehensive go-to market strategies have led the company to forge successful joint ventures and partnerships that encompass more than 60 airport restaurants and retail stores, including notable collaborations with Hudson Group, Ben & Jerry's, Frontera Grill, and Potbelly Sandwich Works. Prior to Robinson Hill, Robinson worked with Johnson & Johnson, Leo Burnett and held commercial banking roles at Ameritrust Bank and Northern Trust.
Robinson earned her Masters of Business Administration from Northwestern University's Kellogg School of Management and a Bachelor of Arts in Economics from the University of Pennsylvania. She also completed Dartmouth's Tuck School of Business Building a High Performing Business Executive Education Program.
"Robinson is a powerful retail professional with a strong track record for scaling businesses for success," says Sampo Parkkinen, Revieve CEO and Co-Founder. "We are delighted to bring Robinson onto the advisory board and have her insights on how to continue Revieve's growth with effective, sustainable, consumer-first strategies."
Robinson serves as a corporate board director for Accel Entertainment, Athena Consumer Acquisition Corp. SPAC, and Wintrust Bank. In addition to the Revieve Advisory Board, she holds board and advisory positions with AllCampus, PGA WORK and PGA REACH, Golf Nation, the Committee of 200, Women Business Collaborative, and is a member of EXIM Bank's Council on Advancing Women in Business. She previously served on the Illinois Gaming Board as a gaming industry regulator, in addition roles with Kendall College, La Rabida Children's Hospital and Fetzer Institute.
Robinson has been recognized as a HistoryMaker, Chicago United Business Leader of Color, Private Company Director Magazine's Director to Watch, WomenInc.'s Most Influential Corporate Director and Diversity MBA Magazine's Top 100 Women of Influence. She also received the Fellowship Open's National Civic Award and was honored by AMAC with the Catalyst Award.
"I am very impressed with Revieve's innovations and how they leverage personalization tools to connect with consumers and grow their presence in the beauty market," says Robinson. "I'm excited to join the team and bring AI/AR-powered beauty experiences to more partners who want to better serve and strengthen relations with their shoppers."
About Revieve Advisory Board
The Revieve Advisory Board was established to further Revieve's mission of transforming how its retail, brand, social media and ecommerce partners engage, connect, and interact with consumers across all touchpoints. Made up of global industry leaders across retail, beauty, eCommerce, innovation, media, marketing, and technology, the board serves as a catalyst for innovation alongside Revieve's AI/AR-driven platforms.
About Revieve
Revieve is the preferred provider to beauty brands and retailers for delivering a digitally-driven, personalized brand experience leveraging its enterprise-grade beauty and wellness technology platform cross-category, cross-channel, and throughout the customer journey.
With easy-to-use self-diagnostic and coaching solutions that personalize search, product discovery, and shopping experiences, Revieve's digital beauty and wellness technology platform delivers consumers targeted products, services, and treatments that enhance the customer-brand relationship and drive loyalty.
Revieve's platform also seamlessly integrates personalized shopping solutions and in-person and live-video consultations with health and beauty advisors, driving tangible business value by increasing consumer engagement, conversion, and basket size across all digital in-store and online brand touchpoints.
For more information
Kim Oguilve
Communications Lead
kim@revieve.com
http://www.revieve.com
Press Kit