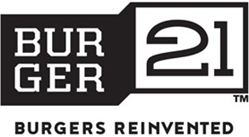 TAMPA, Fla. (PRWEB) January 27, 2023
Burger 21® invites guests to experience Wednesdays like never before. With our Cheesy Wednesdays Special, guests can now order a Cheesy with fries for only $7.99 open to close.
Our Cheesy is made with an angus beef patty, 21 sauce, choice of cheese, lettuce, roma tomato, on a toasted brioche bun. The same Cheesy you know and love but with fries for only $0.50 more, all day every Wednesday!
"We wanted to give our guests a special with a burger that they already know and love," says Burger21 Marketing Coordinator, Sarah Newcomb. "We really want to celebrate
the classics."
Let our Cheesy Wednesday special brighten your week. This offer will be available to all guests in the Patty Perks App, In-Store, and Online Ordering. Find the nearest location
http://www.burger21.com/locations
Download the Patty Perks mobile app to receive the latest promotions and to have all the special offers sent straight to your inbox.
About Burger 21®
Burger 21® was born with the idea of 21 of the best burger flavor combinations imaginable. You could say Burger 21 is obsessed with delicious burgers. What makes Burger 21's chef-crafted burgers so delicious is the commitment to quality and the highest level of ingredients. Burger 21's goal is to create a neighborhood spot where friends, families, and coworkers can come together and eat food that just tastes delicious. With more than 21 burger varieties featuring chicken, seafood, veggie and beef, a Burger 21 burger is like nothing you've ever tasted.
Recognition for Burger 21® includes being named one of the 10 best franchises to buy in 2017, winning the "Better Burger" category of the Franchise Times Zor Awards. The brand has also been named Entrepreneur Magazine's Top New Franchises and Restaurant Business' 50 Fastest-Growing Small Restaurant Chains of 2016.
Additionally, the company has been ranked on Fast Casual's Top 100 "Movers and Shakers" for the last five consecutive years, while Burger 21® Founder and President Mark Johnston was acknowledged as one of Fast Casual's "Top 25 People" of 2014 for his strategic leadership in the brand's growth and development. Burger 21® also was named one of QSR's "Best Franchise Deals" of 2014.
For more information on Burger21®, please visit burger21.com and follow Burger21® on Facebook and Instagram.