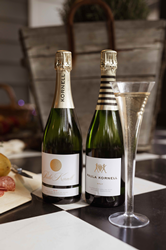 "My mother was the power behind the throne, the queen of hospitality and of bringing everyone together, the hostess with the mostess," Kornell said. "She would have loved this very special bottle of bubbles."
ST. HELENA, Calif. (PRWEB) January 30, 2023
Fourth-generation sparkling wine producer Paula Kornell will release a Napa Valley Blanc de Blancs for the first time at this year's Premiere Napa Valley, the region's trade auction of one-of-a-kind wines, taking place February 25 in St. Helena.
Named in honor of her mother, Marilouise, who was affectionately referred to as the "Queen," the wine is made entirely from Chardonnay, which is often acknowledged as the queen of white wines. The grapes are sourced from one very special block of the historic Mitsuko's Vineyard in Carneros, where grapes are also sourced for the Paula Kornell Napa Valley Blanc de Noirs.
"My mother was the power behind the throne, the queen of hospitality and of bringing everyone together, the hostess with the mostess," Kornell said. "She would have loved this very special bottle of bubbles."
With one barrel made just for Premiere, the Paula Kornell Napa Valley Blanc de Blancs will be released to the public in Spring of 2024.
"This wine comes from one of my favorite blocks of Mitsuko's Vineyard," said winemaker Robin Akhurst. "It was a true joy to make these bubbles with Paula in homage to her mom."
Marilouise Rossini was Swiss-Italian by heritage whose family homesteaded in St. Helena. Hanns Kornell was a third-generation German-born winemaker forced to flee Europe during World War II. Making his way to California he became a pioneer of Méthode Champenoise techniques, founding Hanns Kornell Champagne Cellars in 1958 after falling in love and marrying Marilouise.
Hanns' perfect match, Marilouise was the consummate hostess, welcoming friends from near and far into the family home to enjoy great food, great wine and great company. Paula continues her family's traditions with this magical Blanc de Blancs.
This will be Paula Kornell's second sparkling offering at Premiere. In 2020, she made a rare bottling of 2018 sparkling called "Something Old, Something New." It included a one-of-a-kind dosage from her father's winery dating back to the 1970s.
To celebrate her parents' love story, Paula Kornell Sparkling is offering a duo set of her wines, a California Brut and Napa Valley Blanc de Noirs.
About Paula Kornell Sparkling Wine
Paula Kornell Sparkling Wine is the namesake brand of one of Napa Valley's leading women in wine, who has lived and breathed this premier wine-growing region all her life. With a portfolio of sparkling wines that draw on California's past while attracting contemporary lovers of Champagne and bubbles, Paula builds on the legacy of her family's winery, Hanns Kornell Champagne Cellars, among the pioneers of Méthode Champenoise in California. Paula Kornell Sparkling Wine crafts wines that are stylish, sophisticated and engaging, and—importantly for Paula—food-friendly. Designed to be enjoyed with friends and family, raise a toast to California's history and the rich pleasure of Paula Kornell Sparkling Wine. Visit http://www.paulakornell.com to learn more and follow along on Facebook and Instagram @paulakornellsparkling.