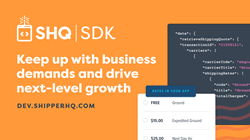 "Custom integration of ShipperHQ into any e-commerce platform, ERP, OMS, POS or other business tools is now faster and easier than ever." - Karen Baker, Founder and CEO of ShipperHQ
LAS VEGAS (PRWEB) January 31, 2023
ShipperHQ, the leading shipping experience management solution, today announced the release of its new software development kit, ShipperHQ SDK, at Manifest Vegas 2023.
The ShipperHQ SDK will allow agencies and technology partners to integrate ShipperHQ into their own systems and applications more quickly, delivering value to clients sooner. Companies integrating with ShipperHQ are investing in shipping innovation, and are able to keep up with customer expectations and business demands, and drive next-level growth.
"In 2023 the importance of collaboration, partnership and flexibility have never been stronger. We need to work together to improve technology at pace for our customers," said Jo Baker, Founder and CEO of ShipperHQ. "This is in line with our mission to be the premier agnostic shipping solution in the e-commerce ecosystem, providing our clients with the most seamless and efficient shipping experience at checkout and beyond."
Custom integration into any e-commerce platform, ERP, OMS, POS or other business tools is now faster and easier than ever. This allows merchants to deliver a unified experience across all sales channels and create a purchasing experience that is optimized for fulfillment.
"ShipperHQ enables us to offer a fully automated click-to-ship experience, both on and offline; a necessary component for enhancing our e-commerce platform, logistics services and delighting our customers," said Jordan Gottlieb, Director of Software Engineering at Yakima Chief Hops.
The SDK is available now to all enterprise plan customers, providing access to a wealth of resources including references, guides, examples and sample code on the ShipperHQ Developer Platform.
As a company that values partnerships, ShipperHQ invites logistics and shipping technology providers to contact them to explore potential collaborations.
ShipperHQ will be exhibiting at the Manifest Vegas on January 31 - February 2, 2023 at Caesars Forum, Las Vegas. Visit Booth 503 to learn more about ShipperHQ SDK and how ShipperHQ can solve shipping challenges with unified logistics from checkout to fulfillment.
About ShipperHQ:
ShipperHQ drives more sales by connecting your business and logistics tools directly to the e-commerce customer experience – delivering shipping convenience and transparency to customers. Streamline operations with a central hub for connecting carriers, OMS, ERP, POS, label and fulfillment solutions to your platform of choice.