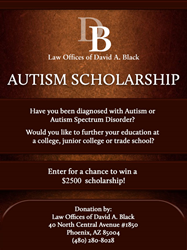 The Law Office of David A. Black in Phoenix is offering a $2,500 educational scholarship for persons diagnosed with autism spectrum disorder. The firm has provided scholarships nearly every year since 2016.
PHOENIX (PRWEB) February 03, 2023
The Law Offices of David A. Black, a Phoenix criminal defense firm, is once again offering a scholarship to provide additional educational opportunities for students (and prospective students) with autism spectrum disorder (ASD, or autism). Since 2016, the firm has offered educational scholarships to disabled veterans, deaf individuals, and those with ASD. The current scholarship is the third such award aimed at increasing educational opportunities for persons with autism.
This year, the amount of the scholarship has increased. The firm will award a scholarship of $2,500 as tuition assistance to the winner of the scholarship contest. The funds may be used to cover a portion of the tuition cost at a post-secondary school or other educational institution, including a trade school, college, university, junior college, or graduate school.
Autism often presents various challenges to persons, including difficulty communicating. These challenges can present themselves in education and often continue throughout childhood and beyond. ASD includes a wide range of conditions: Asperger syndrome, pervasive development disorder, and others, many of which pose educational challenges which may deter individuals from continuing their education. This, in turn, may result in the inability to fulfill career aspirations. The attorneys and support personnel at the firm hope that the scholarship will provide an incentive that may make the difference in a person's choice to continue their education.
If you are a citizen of the United States diagnosed with ASD, you are eligible to apply for the scholarship. You are not required to be in school at the time of the application, but we do require that the scholarship be used within a year of the award.
We invite those who are interested in the scholarship to view the firm's website, which contains the application itself, as well as eligibility information and the deadline for submission of the application. All applications must be completed and submitted to us on or before December 15, 2023. The firm will announce the results and the name of the winner of the scholarship on or before January 25, 2024.
Any questions regarding the scholarship, the application or any related issues should be submitted to us via email:
The Law Offices of David A. Black
40 North Central Avenue #1850
Phoenix, AZ 85004
(480) 280-8028
email michael@dbphoenixcriminallawyer.com