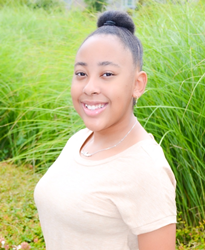 "I enjoy software engineering and researching Black women and I think more people should know about them!"
NEW KENT, Va. (PRWEB) February 01, 2023
In February 2021, she launched her podcast, Betcha Didn't Know! Soon after, she built the iOS mobile app and WatchOS of the same name both built in Apple's Swift and Swift UI. This month, she updated her mobile app and she built and launched her website as the companion to her mobile app. All of her tech products chronicle her research of important African American women.
Starting iOS development at the age of 11, Amari has been passionate about coding and learning about Black women. Combining the two has been a mission that has now come into vision in both her mobile app, watch app, and website. She says, "I enjoy software engineering and researching Black women and I think more people should know about them!"
Season 3 of her podcast will launch Friday, February 3rd. Be sure to check out her new episode! Also, peruse her website and download mobile and watch apps!
https://bdk.webdmg.com
https://amariari.com
https://apple.co/3JjlxRJ
https://apple.co/3XZkaLP
https://apple.co/3XKRvuo