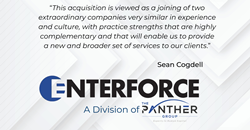 "This acquisition is viewed as a joining of two extraordinary companies very similar in experience and culture, with practice strengths that are highly complementary and that will enable us to provide a new and broader set of services to our clients." - Sean Cogdell
MAYNARD, Mass. (PRWEB) February 08, 2023
The Panther Group (Panther), a Massachusetts-based full-service staffing and recruiting firm, has acquired Enterforce, Inc. (EFI), a Wisconsin-based Managed Service Provider (MSP), in a stock purchase on December 30, 2022. The addition of EFI into the Panther family of businesses, with operations throughout North, Central, and South America, will complement existing recruiting and staffing solutions and will further strengthen our capabilities to offer industry-leading, differentiated, and cost-saving solutions to our clients throughout the Americas, Europe, and Asia. EFI will continue to operate as an independent division of Panther. The acquisition of EFI will increase the breadth and depth of existing Panther Workforce Solutions' expertise, operational structure and capabilities, and company scale.
"This acquisition is viewed as a joining of two extraordinary companies very similar in experience and culture, with practice strengths that are highly complementary and that will enable us to provide a new and broader set of services to our clients," states Sean Cogdell, Chief Executive Officer of the Panther Group. "The synergies and increase in scale will enable The Panther Group and Enterforce to continue delivering exceptional talent, exceptional service, and world-class human capital solutions to a broader market base. The sales growth opportunities and operational efficiencies to both organizations with its forward-focused business strategy are exponential," Cogdell added.
To connect with us and for more information, please visit: http://www.ThePantherGroup.com http://www.Enterforce.com
At The Panther Group and Enterforce, we are Experts in Human Capital.