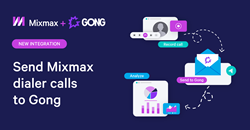 "We are very excited to announce this partnership with Gong, which will help our customers drive even more revenue by enhancing their sales workflows with revenue intelligence." - Olof Mathé, CEO & co-founder of Mixmax
SAN FRANCISCO (PRWEB) February 14, 2023
Mixmax, a top-rated sales engagement platform, today announced a new integration with Gong. Through this partnership, Mixmax customers can leverage Gong's leading revenue intelligence platform to analyze prospect and customer calls.
This integration offers revenue teams a new way to prospect, close, and engage customers at all stages of their lifecycle. In addition to email sequences, one-click calendar scheduling, task management and time-saving Salesforce automations, Mixmax customers can now add revenue intelligence into their workflow without any additional time or effort. Using the Mixmax dialer, reps can call Salesforce leads or contacts with one click, without leaving their inbox. Calls are automatically logged to Salesforce, saving valuable time from updating Salesforce or context-switching between email and their CRM.
Recordings from Mixmax dialer can now automatically be synced to Gong. Teams can then review those calls to find data-backed insights that drive revenue.
"At Mixmax, we are committed to building the best and easiest-to-use product for revenue teams," says Olof Mathé, CEO & co-founder of Mixmax. "We are very excited to announce this partnership with Gong, which will help our customers drive even more revenue by enhancing their sales workflows with revenue intelligence."
"Gong is excited to expand our dialer offerings through outstanding partners like Mixmax. Gong is the most valuable platform for revenue teams and we're accelerating its expansion through integrations that help our customers increase efficiencies and close more deals." Eddie O'Brien, VP Partnerships at Gong.
The Gong integration is now available on Mixmax Enterprise Plans. For more information, visit http://www.mixmax.com/integrations/gong
About Mixmax
Mixmax is the #1 sales engagement platform for G Suite that allows revenue teams to streamline and automate the entire sales process. Mixmax appeared on the 2022 Inc. 5000 list among America's fastest growing private companies. As a globally distributed team, they are dedicated to diversity, equity and inclusion. Mixmax is committed to living as one team with one mission, which is to create a world without busywork by building the best and easiest-to-use product for revenue teams. To learn more, visit http://www.mixmax.com