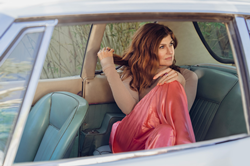 NEW YORK (PRWEB) February 01, 2023
This Thursday, February 2nd at 6:30pm, DuJour Magazine will celebrate its February cover star, Connie Britton, at Gospël in New York City with hosts DuJour Media CEO Jason Binn, Roberto Coin's Peter Webster and Gospël's founder James Huddleston–bringing the best of the best to this celebration.
Now in its tenth year, DuJour showcases the gorgeous and talented actress Connie Britton for its February cover. The Emmy-nominated star of Friday Night Lights, American Horror Story, Nashville and The White Lotus is starring in the new Apple TV+ series, Dear Edward, based on the bestselling novel of the same name. Photographed on location in Los Angeles, Victoria Stevens shot stunning and sexy images of Britton in the best of spring's fashion looks.
About:
Founded by Jason Binn, DuJour Media is a luxury lifestyle media company focused on passions and interests that resonate with the most affluent and influential consumers in the country including fashion, arts and culture, beauty, design, entertainment, travel, business and hospitality.
Gospël, nestled in the heart of SoHo, is a new-age social club that centers its purpose around music, the arts and human connection. A cutting-edge collective space, combining a multi-floor experience with transformative music and culinary events, Gospël serves as a culture hub for their thriving creative community.
The Roberto Coin brand was born in 1996. Its founder, with whom it shares its name, driven by the innate love for the world of art and fashion, decided to leave his successful career as a hotelier to follow a dream and face a new and passionate adventure.
His creativity took shape through the hands of the historical and most renowned Italian jewelry artisans, who brought Roberto Coin's romantic and borderless imagination to life through their skills, telling his story through jewels that truly become works of art.
For any and all press inquiries, please contact DuJour Media's Isabella Coll.
isabella.coll@dujour.com