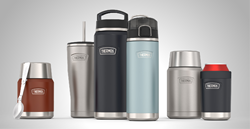 "The Icon™ Series is by far our most versatile product launch in history," said Julie Henricks, executive vice president, Thermos L.L.C. "We're excited to expand our hydration and cold beverage goods so we can better meet the needs of our consumers."
SCHAUMBURG, Ill. (PRWEB) February 01, 2023
Thermos L.L.C. is excited to introduce the all-new Icon™ Series. Since 1904, Thermos® Brand has been perfecting the art of keeping coffee hot, water cold, and food fresh. The Icon™ Series is the latest masterpiece. The new line includes hot beverage and food storage options, which have been celebrated categories of Thermos Brand products for 119 years. In addition, the new line now includes a wide array of products with a focus on cold beverage and hydration. The line was designed with the consumer in mind, which is why all the products have a Griptec™ Non-Slip Base and True-Coat™ Finish.
The Icon™ Series cold beverage options include tumblers with straws, can insulators, and water bottles for every occasion. The tumblers have a Sure-Stack™ design that allows consumers to save space when storing their beverageware. Additionally, the line includes 24oz and 64oz water bottles with a Rapidrate™ Spout that has been perfected by the Thermos Brand product team, making it easier than ever to stay hydrated on the go.
Match your day. The Icon™ Series by Thermos also includes 6 new colors so consumers can pick the perfect color no matter what their day holds. The color palette of the new Icon™ Series was inspired by the everyday beauty of the natural world including Granite, Glacier, Sunset Pink, and Sandstone, plus other classic colors such as Saddle and Matte Stainless Steel, making the new Icon™ Series as versatile as the consumer.
"The Icon™ Series is by far our most versatile product launch in history," said Julie Henricks, executive vice president, Thermos L.L.C. "We're excited to expand our hydration and cold beverage goods so we can better meet the needs of our consumers."
Products will be launched on Thermos.com and other retailers throughout 2023.
Every product from the Icon™ Series consists of Thermos™ vacuum insulation technology:

16oz Mug
16oz Tumbler
16oz Food Jar with Spoon
24oz Food Jar with Spoon
24oz Tumbler
24oz Tumbler with Straw
24oz Water Bottle with Spout
24oz Water Bottle with Screw Top
32oz Water Bottle with Screw Top
32oz Dual Temperature Beverage Bottle
40oz Water Bottle with Screw Top
64oz Water Bottle with Spout
1.2L Beverage Bottle
Beverage Can Insulator
Slim Beverage Can Insulator
Features:

Multiple Colors: Matte Stainless Steel, Granite, Glacier, Sunset Pink, Sandstone, Saddle-1
True-Coat™ Finish
Dishwasher Safe-2
Griptec™ Non-Slip Base
Dual-Temp™ Drink Lids-3
Lumiview™ Clear View Drink Lids-3
Rapidrate™ Spout-3
Sure-Stack™ Design-3
Cup Holder Compatible-3
About Thermos L.L.C.
For over a century, families have trusted Thermos® Brand to provide durable and high performing food and beverage containers for every on-the-go need. Because when it comes to looking after the things that matter most, you shouldn't have to settle for good enough. Learn more at Thermos.com.
1 - Products available in select colors
2 - Top rack recommended
3 - Only available in select items