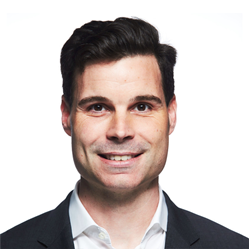 "Dave is a proven, hands-on leader who understands the huge market opportunity for Recruitics." - Adam Stafford, CEO, Recruitics
NORWALK, Conn. (PRWEB) February 01, 2023
Recruitics, an award-winning, data-powered recruitment marketing firm, announced today that Dave Tuttle has been named as its new Chief Revenue Officer (CRO). In this role, Tuttle will lead the company's enterprise sales, marketing, and revenue operations.
Tuttle brings over a decade of experience driving global sales and customer success in the talent acquisition industry. Prior to joining Recruitics, he was Vice President of Enterprise Sales at ZipRecruiter where he developed and scaled the enterprise, account management, and partnership teams, which helped position the company for a successful IPO in 2021. He also held executive positions at AppVault and TMP Worldwide (now Radancy), and most recently served as CRO at Origin.
"I have long admired Recruitics and am I'm thrilled to join the team," said Tuttle. "The company has built a strong reputation as a market leader through ongoing product innovation and a customer-centric mindset. I plan to leverage my experience with enterprise expansion to help Recruitics further accelerate its already rapid growth."
As CRO, Tuttle's responsibilities will also include expanding Recruitics' global client base and driving the company's go-to-market strategy for both its enterprise and digital divisions. He will report to Adam Stafford, CEO of Recruitics.
"Dave is a proven, hands-on leader who understands the huge market opportunity for Recruitics," said Stafford. "We believe he will play a key role in the growth and expansion of our client base and help reinforce our position as the leading recruitment marketing platform in the industry." —
ABOUT RECRUITICS
Recruitics is a data-driven recruitment marketing agency with an innovative recruitment technology platform, iON, that makes it easy for the world's leading brands to attract and hire great talent.
Founded in 2012, Recruitics is headquartered in Norwalk, CT, with offices across North America and Europe. The company delivers recruitment marketing solutions to clients around the globe including candidate targeting and acquisition, applicant nurturing and engagement, employer branding, career sites, programmatic advertising, data analytics, and more. To learn more, visit http://www.recruitics.com or write to mailto:info@recruitics.com [info@recruitics.com].
LinkedIn | Twitter | Facebook | Instagram