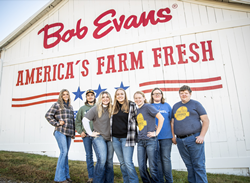 NEW ALBANY, Ohio (PRWEB) February 01, 2023
Bob Evans Restaurants continues to pay homage to its founder and former farmer, Bob Evans, through its long-standing partnership with the National FFA Organization. As part of its ongoing investment in the organization, Bob Evans will be awarding Supervised Agricultural Experience (SAE) Grants to 12 deserving high school student FFA members. The grant program, now in its third year, signifies Bob Evans' ongoing commitment to supporting and inspiring the next generation of agricultural leaders in our nation's farming communities.
Each grant recipient will receive $1,000 to help them achieve the goals they outlined for their SAE this year. These experiential learning projects will help students learn more about agriculture, marketing, and running a business. The funds from Bob Evans will assist these 12 high school students with agricultural initiatives, such as building hydroponic gardens and greenhouses to produce larger crop yields, and improving an existing beehive to harvest honey for income and increasing the local bee population to pollinate nearby gardens. This year, students noted in their project applications the importance of providing healthy options, like fresh produce, to local families at an affordable price during a time of high inflation and rising grocery prices.
"Inspired by our farming roots, we're proud to support another group of young, aspiring farmers and we look forward to seeing their innovative projects come to fruition this year," said Bob Holtcamp, President and CMO for Bob Evans Restaurants. "At Bob Evans, serving up 'America's Farm Fresh' is the promise to our guests and by partnering with FFA to support these student projects, we are able to extend this to local communities across America in a new way."
The Bob Evans 2023 SAE Grant recipients were selected from more than 1,296 applications nationwide:

Lilly Cappitte from Sunbury, Ohio
Brooklynn Fleming from Leeton, Missouri
Nathan Gallimore from Clinton, Kentucky
Joslyn L. Hinton from Hodgenville, Kentucky
Veronica Hummel from Middleburg, Pennsylvania
Alexandra Kinney from Lewiston, Ohio
Delaney Nekolny from St. Joseph, Illinois
Quinn Pendley from Athens, Georgia
Isaac Pohl from Fort Branch, Indiana
William Rogers from Saline, Michigan
Whitney Smith from Clayton, Indiana
Stone Stauch from Greencastle Indiana
To raise funds for 2024 SAE Grants, Bob Evans will hold its annual "Egg Crack, Give Back" fundraiser on February 23, 2023. This is also Give FFA Day, an annual celebration that takes place each year during National FFA Week (February 18-25). For every Farmer's Choice Breakfast sold on February 23, Bob Evans will donate one dollar to the FFA up to $15,000. More information will be released later this month on how to participate at your local Bob Evans restaurant.
For more information on Bob Evan's commitment to FFA, please visit BobEvans.com/FFA. For more information about FFA, please visit http://www.FFA.org.
###
About Bob Evans Restaurants, LLC
Bob Evans Restaurants is chain of family-style restaurants founded and headquartered in Columbus, Ohio, which owns and operates nearly 450 locations in 18 states, primarily in the Midwest, mid-Atlantic and Southeast regions. Guests have been enjoying signature farm-fresh meals like the Farmer's Choice Breakfast, made with fresh-cracked eggs, and the slow-roasted, hand-carved turkey dinner among other classics for over 70 years. True to his humble farmer roots, founder Bob Evans believed in treating strangers like friends and friends like family, and this hospitality is still on display at every Bob Evans Restaurant location. As a private company, Bob Evans Restaurants is focused on bringing America's Farm Fresh to its guests at every meal, each and every day. For more information and restaurant locations, visit BobEvans.com, or follow us on Facebook, Twitter and Instagram.
About National FFA Organization
The National FFA Organization is a school-based national youth leadership development organization of more than 850,000 student members as part of 8,995 local FFA chapters in all 50 states, Puerto Rico and the U.S. Virgin Islands. The FFA mission is to make a positive difference in the lives of students by developing their potential for premier leadership, personal growth and career success through agricultural education. For more, visit the National FFA Organization online at FFA.org and on Facebook and Twitter.
About National FFA Foundation
The National FFA Foundation builds partnerships with industry, education, government, other foundations, and individuals to secure financial resources that recognize FFA member achievements, develop student leaders, and support the future of agricultural education. Governed by a 19-member board of trustees composed of educators, business leaders, individual donors and FFA Alumni, the foundation is a separately registered nonprofit organization. About 82 percent of every dollar received by the foundation supports FFA members and agricultural education opportunities. For more, visit FFA.org/Give.