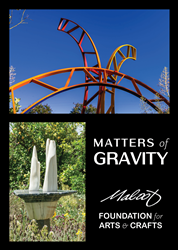 MEET THE ARTISTS"We're very proud of our work at the Maloof. We'll be onsite the last three Saturdays of February, March, and April. We'd love to meet you and show you around. The Gardens are in full spring bloom!"
RANCHO CUCAMONGA, Calif. (PRWEB) February 07, 2023
​MATTERS OF GRAVITY, an exhibition of gravity-defying sculptures by Tanya Kovaleski and Martha Moran, is on display through April in the six-acre gardens at the Maloof Foundation for the Arts in Rancho Cucamonga. The Ojai-based artists will be at the Maloof to greet landscape and sculpture enthusiasts on three upcoming Saturdays, February 25, March 25, and April 22. Seeing the 30+ sculptures situated amid the native plant gardens surrounding the home of mid-century master woodworker Sam Maloof is a rewarding stop-off on a trip to Palm Springs. Just minutes north of the 210 freeway, the gardens are open free of charge every Friday and Saturday, 10–4.
Tanya Kovaleski's boldly engineered wooden sculptures are vibrantly painted, arching skyward, all angles and curves. Kovaleski graduated from UC Berkeley and Yale School of Art. She has shown her sculptures in New York, Los Angeles, the San Francisco Bay Area, and Ojai. She has taught sculpture at University/College level and K-12. She is currently working on more bent-wood installations to be fabricated in metal. http://www.tanyakovaleski.com.
Inspired by the primeval art of rockstacking, Martha Moran's stone sculptures and altars instill a sense of ancient wonder. With degrees from the College of Creative Studies at UCSB and UCLA Film School, Moran worked as a writer/director before becoming a fulltime sculptor. She has exhibited across California and has public art installed in Agoura Hills, Banning, and another commission underway in Ojai. http://www.ojairockstacker.com.
For information on the Maloof Foundation or to book tours of Sam Maloof's house:
909 980-0412 or info@malooffoundation.org.
https://www.facebook.com/mattersofgravity/ | https://www.instagram.com/tanyakovaleski/ | https://www.instagram.com/marthamoran9253/