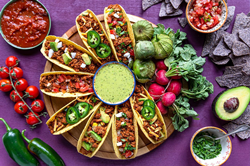 "Everything Legendary is rapidly developing a reputation of providing good tasting plant-based food that appeals particularly to young adults," said Wade Henley, associate vice president of auxiliary services. "
BOWIE, Md. (PRWEB) February 01, 2023
Everything Legendary, creators of plant-based food with legendary flavor, announced today that it has a new agreement with Bowie State University (BSU) to provide gourmet, plant-based food in campus dining facilities beginning in February. Founded by Historically Black College and University (HBCU) graduates, it's the company's first agreement with an HBCU or any other institution of higher learning.
"We are pleased to be working with BSU and believe it is just the beginning of a long and fruitful relationship," said Duane "Myko" Cheers, Everything Legendary co-founder. "BSU is just the beginning. Our goal is to work with colleges and universities across the United States to provide them with plant-based food."
Both Duane Myko Cheers and co-founder Danita Claytor are HBCU graduates. Cheers graduated from Morgan State University while Claytor earned her undergraduate degree from BSU.
"Everything Legendary is rapidly developing a reputation of providing good tasting plant-based food that appeals particularly to young adults," said Wade Henley, associate vice president of auxiliary services. "Options are important to students at BSU and Everything Legendary will provide them and others on campus with choices to ensure that they have a pleasant dining experience."
In less than two years, the company has grown from a family kitchen operation to a nationally-recognized brand with a strong retail footprint, three manufacturing facilities and a legendary rock star team to take the company to the next level.
The rapid rise of Everything Legendary, the nation's fastest growing plant-based meat company, began in early 2021 when the founders were making burgers by hand in their kitchen at home. In just 15 months, they went from zero to 4,000 national grocery store shelves including retailers such as Whole Foods, Safeway, ACME Markets, Target, Sprouts, Kroger, Ralphs, Kings, and Balduccis, with additional placements coming this year.
-MORE-
"We have been very successful with our grocery store expansion. In 2023, we are focusing on food service expansion and HBCUs are up first," said Cheers. "We are HBCU graduates and live this culture. We know what it is like to live on a campus with limited plant-based options. Through our relationship with BSU, we are excited to raise the bar by offering healthy, plant-based options to the students and faculty on campus. This is just the beginning."
In support of this initiative, Everything Legendary will be leveraging their partnership with Live Nation to offer events, prizes, and concerts exclusively for students at BSU. There are also plans for Everything Legendary to launch in 50 additional colleges and universities in the spring of 2023, with a focus on HBCUs.
"The Washington Post has reported that African Americans are the fastest growing group of plant-based consumers. However, there are very few black-owned companies producing plant-based products," said Danita Claytor, co-founder of Everything Legendary. "We want to inspire the next generation of African American plant-based entrepreneurs to go after their dreams. We are grateful to partner with all the illustrious HBCUs, especially my alma mater, BSU."
About Bowie State University
Bowie State University (BSU) is an important higher education access portal for qualified persons from diverse academic and socioeconomic backgrounds, seeking a high-quality and affordable public comprehensive university. The university places special emphasis on the science, technology, cybersecurity, teacher education, business, and nursing disciplines within the context of a liberal arts education. For more information about BSU, visit bowiestate.edu
About Everything Legendary
Everything Legendary, founded by Duane "Myko" Cheers and Danita Claytor, is leading the flavor revolution with a line of healthy, plant-based ground and burger patties. Inspired by Mom, created by a chef, and taste-tested by the community, Everything Legendary is a black-owned company that goes above and beyond the impossible to deliver food with legendary flavor and superior quality. Everything Legendary can be found at retailers nationwide, in restaurants and on their website. For recipes, tutorials, product information and more, visit https://golegendary.com Join the movement. Connect with Everything Legendary on Instagram, Facebook and TikTok.