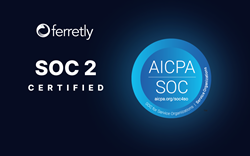 Our clients can be confident that we are committed to and making every investment to establish and maintain the most stringent controls needed to ensure the highest level of security and compliance.
EASTON, Md. (PRWEB) February 02, 2023
Ferretly, a global leader in social media screening powered by artificial intelligence, today announced that it has successfully completed the Service Organization Control (SOC) 2 Type 1 audit. The audit affirms that Ferretly's information security practices, policies, procedures, and operations meet the SOC 2 standards for security, privacy, availability, and confidentiality.
As companies increasingly use cloud-based vendors to perform activities that are core to their business operations and strategy, there is a need for more trust and transparency in their service providers' operations, processes, and results. Ferretly's SOC 2 report verifies the existence of internal controls which have been designed and implemented to meet the requirements for the security principles set forth in the Trust Services Principles and Criteria for Security.
"Completing the SOC 2 Type 1 certification reinforces Ferretly's ongoing commitment to the security, privacy, availability, and processing integrity of the Ferretly platform," says Craig Eddy, Chief Technology Officer at Ferretly.
Passing the SOC 2 audit gives Ferretly a distinct competitive edge as we can assure our current and various prospective customers in our pipeline that we have taken all steps necessary to keep their data safe, thereby protecting them from potential data breaches.
A copy of the SOC 2 audit certification is available to clients and prospective clients on demand. Please email: sales@ferretly.com
About Ferretly International, LLC
Ferretly International, LLC, founded in 2019, provides forward-thinking technologies that help organizations better manage risk. By incorporating machine learning and modern cloud-based architecture, we are at the cutting edge of applying big data solutions and artificial intelligence to improve overall security and risk intelligence for the customers we serve. For additional information or to request a demo, visit http://www.ferretly.com.
Follow us on Social Media.
LinkedIn - Facebok - Twitter - Instagram - YouTube