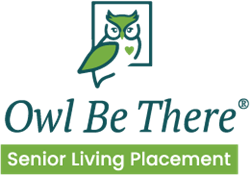 "We're very excited and honored to see our business opportunity featured on Worldwide Business with kathy ireland, The segment did a wonderful job of communicating the value propositions offered by our franchise opportunity." -- Laura Greenwood, president of Owl Be There
SPRINGFIELD, Va. (PRWEB) February 02, 2023
Owl Be There, an emerging franchise concept featuring a network of home-based senior care referral specialists, was recently the subject of a special field report on a recent episode of Worldwide Business with kathy ireland. The show, which airs weekly on the Fox Business Network, features a wide range of in-depth interviews exploring the diverse world of business opportunities and the executives behind the companies and organizations driving today's innovative growth.
"We're very excited and honored to see our business opportunity featured on Worldwide Business with kathy ireland," said Laura Greenwood, president of Owl Be There franchising. "The segment did a wonderful job of communicating the value propositions offered by our franchise opportunity, as well as focusing on the target market we assist - vulnerable seniors and their families who face difficult decisions about the living arrangements of their loved ones."
Filmed on location at a Maryland-based residential assisted living community that's previously worked with Owl Be There, founders David and Laura Greenwood explained how their network of referral specialists work with seniors and their families to determine the optimal living arrangements that align closely with their level of care requirements. Thanks to comprehensive training and ongoing support from their corporate office, Owl Be There senior care referral placement specialists are well-prepared to work closely with families in recommending the most suitable outcome among several different levels of senior care facilities. These may include independent or assisted living, memory care communities, and even home-based senior care solutions. As a key assistance provider, the primary mission of Owl Be There's independent consultants is to improve lives by empowering seniors and their family members to make informed decisions. The full interview segment featuring Owl Be There is available for viewing on the company's franchising website.
As a franchise opportunity, Owl Be There is a low-cost, low overhead investment with a supportive family based culture, requiring no previous senior care experience to own. The franchise opportunity operates in an industry with extremely high demand, as the number of seniors aged 65 and older grows by 10,000 each day. According to the U.S. Census Bureau, it's estimated that seniors will top 74 million by the year 2030 - in an assisted living marketplace currently worth $87.4 billion annually in the U.S.
Owl Be There is currently recruiting franchisees in 40 U.S. states. Ideal candidates for the brand's home-based business opportunity are entrepreneurial-minded individuals with high moral ethical standards, and a strong desire to improve the lives of seniors in their own communities. For further information, please visit http://www.owlbetherefranchise.com or contact Owl Be There's franchise development team at (218) 695-2273.
About Owl Be There
Owl Be There is a franchise opportunity featuring a network of independent, home-based senior referral specialists who work with seniors and their families to determine the most suitable option for their care level and living arrangements. Owl Be There consultants offer white-glove, concierge-level service at no cost to seniors and their families and are compensated by the brand's network of senior living facilities and care providers. Owl Be There is currently recruiting new franchise owners in 40 U.S. states, with a standard protected territory size based on a population of 400,000 residents. The franchise opportunity requires no previous senior or healthcare experience and provides both comprehensive training and ongoing support for its network of referral specialists. For more information, please visit http://www.owlbetherefranchise.com.