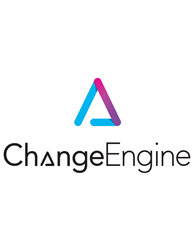 ChangeEngine is a command center for all employee-facing initiatives: a centralized platform for companies to design & deliver the employee moments that matter most...
SAN FRANCISCO (PRWEB) February 07, 2023
Today, ChangeEngine, the innovative workplace technology solution that enables companies to discover, design, and deliver the employee moments that matter most, announced that it raised $5.5 million in seed funding. This funding round was led by Struck Capital and joined by Bonfire Ventures, Builders VC, and Forward Partners.
In the hybrid work environment, ChangeEngine helps companies treat their employees like internal customers by syncing with their employee data, creating employee persona segments to drive high-value communications, designing engaging visual content that aligns the external & internal brand, and empowering companies to launch best-in-class workplace initiatives faster with their hand-curated template library.
"ChangeEngine is a command center for all employee-facing initiatives: a centralized platform for companies to design & deliver the employee moments that matter most," CEO Andrew Higashi stated. "In this economic climate, leaders are aware that they need to uplevel their internal communications and sustain alignment across global teams – but it's a struggle to do so with existing disparate systems that don't talk to each other. ChangeEngine is a transformative solution that allows companies to execute internal campaigns across the entire employee lifecycle, bringing them to the forefront of the future of work."
ChangeEngine's four founders, who have extensive experience previously working together and exiting fast-growing HR & People tech and Marketing tech startups, launched its platform in May 2022, and the company has continued to experience significant growth since then including a 9x increase in net new customer logos and annual recurring revenue in less than six months.
"ChangeEngine has evolved the way that we work as a People & Places organization," said Luan Lam, Chief People Officer at Harness. "Being a fast-growing company, it was mission-critical to adopt an employee-centric communication strategy to create and capture moments in our employee lifecycle. As a result, the platform has changed our employees' lives since we can build meaningful relationships with them by communicating the right messages at the right time. Using ChangeEngine, we increased adoption of key employee initiatives from 60% to 95% and saved 250+ hours via automation within the first thirty days of our partnership."
Culture-as-a-Service (CaaS) is a $300B new segment that helps companies handle the volume and complexity of employee experience, treating employees with the same level of care and support that's now standard practice for customer experience but harder to find for employees.
"ChangeEngine arrives at an opportune time given broader trends toward greater employee engagement and productivity for a distributed workforce through digitization," said Adam Struck, Founder and Managing Partner of Struck Capital. "It's not often that you see a shift as significant as the hybrid workplace model. Moreover, ChangeEngine's co-founders have both the domain expertise and technical experience to take this market by storm."
With its seed funding proceeds, ChangeEngine plans to build modern AI into its platform to democratize idea generation, visual design, tonal variations, and predictive insights. In addition, ChangeEngine formed a robust advisory network of industry thought leaders and are continuing to grow their product & engineering teams alongside their go-to-market teams.
About ChangeEngine
Founded in 2021, ChangeEngine is a 'future of work' company that enables individuals and teams to discover, design, and execute employee-facing initiatives. With ChangeEngine, companies can attract & retain top talent, increase the adoption of key employee initiatives, and save hundreds of hours via internal communications automation. ChangeEngine boasts a robust suite of integrations embedded across a wide range of systems of record. ChangeEngine was co-founded by Andrew Higashi (CEO), Kes Thygesen (CPO), Gaurav Saini (CCO), and Rick Tank (CTO) and is headquartered in San Francisco, CA with offices in London and LatAm. To learn more about ChangeEngine, visit https://www.changeengine.com/