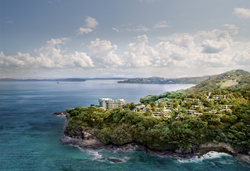 "Anybody that goes to the Cacique peninsula will fall in love with it," said Steve Case, co-founder of AOL and Chairman and CEO of Revolution. "I've traveled the world and there's something magical about this place."
GUANACASTE, Costa Rica (PRWEB) February 06, 2023
Revolution Places, the real estate and hospitality investment arm of Revolution, LLC, and IMI Worldwide Properties, today announced the release of a new luxury residential offering in Latin America, the Waldorf Astoria Residences Guanacaste. Situated on the dramatic cliffside peninsula of Cacique in Costa Rica's celebrated Guanacaste province, the Waldorf Astoria Residences Guanacaste will feature 19 condominium residences and 22 estate homes, alongside the anticipated 190-key Waldorf Astoria Guanacaste, as the brand's first debut in Costa Rica. With a focus on sustainability, connection to nature, and premium luxury amenities and experiences, the residential community offers an unparalleled private ownership opportunity in an ecologically rich and visually stunning oceanfront environment."Anybody that goes to the Cacique peninsula will fall in love with it," said Steve Case, co-founder of AOL and Chairman and CEO of Revolution. "I've traveled the world and there's something magical about this place. My dream is for Cacique to offer visitors an opportunity to experience the peninsula in residences that reflect the beauty of this location. We have spent more than a decade finding the right partners and plans to honor this special place."
OWNING A PIECE OF PURA VIDA
Boasting panoramic views of the Pacific Ocean and the Bay of Papagayo, the Waldorf Astoria Residences Guanacaste are designed to set a new standard for luxury living. The property's 19 condominium residences range from two to three bedrooms across 1,509 to 2,209 square feet, with two-bedroom residences starting at $1.62 million and three-bedroom residences at $2.72 million. Buyers seeking larger accommodations can select from 22 estate homes, with floorplans including four-bedroom, two-story estates at 3,996 square feet; five-bedroom, two-story estates at 4,982 square feet; and five-bedroom, three-story estates at 4,996 square feet. Pricing on the estates starts at $5.31 million for the four-bedroom floorplans and $6.37 million for the five-bedroom floorplans. All residences and estates will come fully furnished and owners have the option to include their home in a vacation rental program. The interiors of both the residences and estate homes will seamlessly integrate elements of the surrounding natural environment, featuring organic materials, clean lines, and local architectural influences."This project is truly one of the most stunning properties we've ever had an opportunity to work with and the location on the Cacique peninsula can't be beat," says Mike Collins, co-founder and CEO of IMI Worldwide Properties. "With nine of the estate homes and one of the private condominium residences reserved at this time, we're already seeing incredible demand for this offering and the community that Revolution Places and Waldorf Astoria brand had envisioned."
SUSTAINABILITY
At the forefront is the development's commitment to sustainability and environmentally responsible practices. The site plan for the community prioritizes biophilic design, preserving the unique natural topography and native species, and implementing high-efficiency heating, cooling, and wastewater systems. Revolution Places has partnered with an award-winning team of architects, designers, and planners, including Garnier Arquitectos, Robles Arquitectos, Gensler, and EDSA to bring this vision to life. Residents will enjoy thoughtful design features that blend into the peninsula's natural environment, including water elements throughout the property and a spa built atop a naturally occurring creek. The site plan emphasizes walkability, with all amenities and necessities within a short walk of the residences, and a fleet of electric vehicles available for longer on-property transportation needs.
WORLD-CLASS HOSPITALITY EXCELLENCE
As the brand's first residential property in Costa Rica, Waldorf Astoria Residences Guanacaste will offer homeowners access to the premium amenities and personalized services synonymous with Waldorf Astoria brand and heritage. Residents will enjoy exclusive hotel amenities, including a beach club, cenote-inspired spa with treehouse-style treatment rooms, multiple restaurants, event facilities, and meeting rooms, and a soothing holistic wellness center complete with a state-of-the-art gym, movement studio, outdoor yoga, and lap and thermal pools.
COSTA RICA'S MOST SOUGHT-AFTER DESTINATION
Just 25 minutes from the Daniel Oduber Quirós International Airport (also known as the Liberia International Airport) with direct flight access from more than 20 international destinations across the U.S., Canada, Mexico, and Europe, the Waldorf Astoria Residences Guanacaste is ideally situated on the Cacique peninsula and within a short drive of two neighboring towns offering authentic Costa Rican culture. The property provides immediate access to Playa Penca, a secluded stretch of beach ideally suited for swimming, watersports, and boating. At the same time, those seeking adventure farther afield can enjoy the region's dynamic tropical rainforest environment with a variety of national parks, trails, caves, volcanoes, and waterfalls to explore. The Guanacaste province is also home to one of the world's rare "Blue Zones," where residents are known to live longer and healthier lives. Waldorf Astoria Residences Guanacaste will break ground in Q2 of 2023 and is set to deliver in Q4 of 2024. Sales of the residences are offered exclusively through IMI Worldwide Properties.
For more information, please visit https://clientportal.waldorfastoriaresidencesguanacaste.com/pressrelease/. Waldorf Astoria Residences Guanacaste is owned by Revolution, Cacique Investors LLC, and Garnier & Garnier, who is also the project's Costa Rican developer. GFG Securities LLC raised equity and debt financing.###
ABOUT REVOLUTION PLACES:
Revolution Places invests in unique real estate and hospitality opportunities that promote new models for travel and tourism based on healthy lifestyles, sustainable luxury, and appreciation for the natural environment. Revolution Places is part of Revolution LLC, a D.C.-based investment firm led by AOL Co-founder, Steve Case. Learn more at https://revolution.com/entity/places/.
Revolution Places Media Contact:
Tracy Zuckerman Van Grack
Tracy.VanGrack@revolution.com
516.524.6124
ABOUT IMI WORLDWIDE PROPERTIES:
IMI Worldwide Properties is an innovative and integrated real estate brokerage firm focused on new and emerging luxury real estate. For over 30 years, IMI Worldwide Properties has created some of the most recognized luxury real estate communities around the world. For more information, please visit http://www.imiliving.com.
ABOUT WALDORF ASTORIA HOTELS & RESORTS:
Waldorf Astoria Hotels & Resorts is a portfolio of more than 30 iconic properties that creates a unique sense of place with a relentless commitment to elegant service, one-of-a-kind experiences and culinary expertise in landmark destinations around the world. Inspired by their timeless environments and sincerely elegant service, Waldorf Astoria hotels deliver an effortless experience seamlessly, creating a true sense of place for guests through stunning architectural features, brand rituals, the famous Peacock Alley, refined art collections, and elevated in-room amenities. In addition to the brand's world-class hotel offerings, Waldorf Astoria boasts a global residential portfolio that provides the comfort of a private home combined with unsurpassed amenities and high-touch service. Waldorf Astoria is part of Hilton, a leading global hospitality company. Experience an unforgettable stay at Waldorf Astoria Hotels & Resorts by booking at waldorfastoria.com or through the industry-leading Hilton Honors app. Hilton Honors members who book directly through preferred Hilton channels have access to instant benefits. Learn more about Waldorf Astoria Hotels & Resorts at stories.hilton.com/waldorfastoria, and follow the brand on Twitter, Instagram and Facebook.
ABOUT GFG:
GFG Securities, LLC ("GFG Securities") is a boutique real estate investment banking firm that assists public and privately owned businesses with domestic and international investment banking services, including equity and debt capital raising, mergers & acquisitions, and strategic consulting services. Headquartered in Miami, FL, GFG Securities has acted as the primary liaison in debt and equity capital raising transactions in excess of $1.9 billion with average transaction values between US$20 and US$500 million. Visit http://www.gfgsecurities.com for company information.
GFG Media Contact:
David Ramos
davidr@gfgholdings.com
305.810.6500
ABOUT GARNIER & GARNIER:
Garnier & Garnier Desarrollos Inmobiliarios ("Garnier") has over 25 years of experience in the conceptualization, development, and disposition of Real Estate Projects throughout Costa Rica. Garnier has been involved in the design and construction of over 1,500,000 square meters of development throughout its history, with well over $600 MM of construction in the last 5 years. Focused on the development of industrial parks and free trade zones, corporate office parks, and hospitality/residential projects, Garnier brings a sustainable and innovative approach to traditional real estate development.
Visit http://www.garnier.cr for company information.