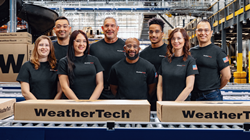 BOLINGBROOK, Ill. (PRWEB) February 07, 2023
WeatherTech, the leading manufacturer of premium American-made automotive accessories, home and pet care products, will air a new 30-second commercial "We All Win" during the FOX broadcast of Super Bowl LVII, February 12, 2023.
This year marks the 10th anniversary of WeatherTech being a first-time advertiser on the Super Bowl. Today, after a decade of consecutively advertising during the big game, the mission of the company — to design, engineer, and manufacture world-class products right here in America and fight the trend of offshoring — is more relevant than ever.
When the company started 33 years ago, the conventional wisdom in business said it could never be done. Thus, "YOU CAN'T DO THAT" became the theme of WeatherTech's first Super Bowl commercial.
To mark the 10th anniversary of that advertisement, the company decided to incorporate elements from that first commercial to showcase the company's growth. This ad features new factories they've built and their range of premium products for auto, home and pets, all made by American workers who show us every day that "You CAN do that" and "We ARE doing that!"
WeatherTech proves that the American Dream of "making it in America" is very much alive and well. Their motto echoes their core value of keeping product manufacturing on U.S. soil: "We Never Left."
The commercial also features an appearance from Scout, WeatherTech's beloved golden retriever. Before he passed due to cancer, Scout appeared in many WeatherTech commercials over the years, including a starring role in several of their Super Bowl spots. Scout will continue to live on through the 2023 Super Bowl commercial. His life was extended by the care given to him at the School of Veterinary Medicine at the University of Wisconsin-Madison. WeatherTech is raising funds to help further the school's important research in Scout's memory. You can also help make a difference today by donating at https://secure.supportuw.org/give/?id=40667cc0-e551-47eb-9b9f-3facae7e3fdd&custom=vet06&appeal=242.
The spot was produced by Pinnacle Advertising of Schaumburg, Illinois in connection with WeatherTech's marketing department.
WeatherTech We All Win Super Bowl Commercial 2023 link: https://youtu.be/h5D5BQM6D-M.
Super Bowl LVII will feature the Kansas City Chiefs and the Philadelphia Eagles. It will kick off at 6:30 p.m. (ET), February 12 at State Farm Stadium in Glendale, AZ and will be televised on FOX.Contact Kyle Chura at 248-821-0468 or Kyle@kcapr.com for additional information.About WeatherTech®
For decades, WeatherTech has delivered on its promise of quality and craftsmanship through a commitment to American-made auto, home and pet products. Globally renowned for its laser-measured FloorLiner™ and innovative CupFone®, the Bolingbrook, Illinois headquartered company continues to push industry boundaries through superior design, engineering and international brand recognition. More information can be found at weathertech.com.