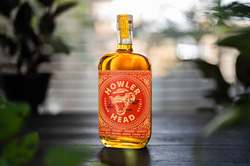 Our partnership with Campari Group is allowing us to accelerate our global expansion plans for Howler Head exponentially.
São Paulo & Perth, Aus. (PRWEB) February 06, 2023
Campari Group and Catalyst Spirits announce today Howler Head® Bourbon – the official flavored bourbon whiskey of UFC and the original banana-flavored super-premium bourbon whiskey – is now available in Brazil and Australia. The launches coincide with UFC® 283: TEIXEIRA vs. HILL in Rio de Janeiro and UFC® 284: Makhachev vs. Volkanovski in Perth. Campari Group controls a 15% interest in the popular Catalyst Spirits brand, which is also available in the United States, Canada and the U.K.
"Our partnership with Campari Group is allowing us to accelerate our global expansion plans for Howler Head exponentially," said Simon Hunt, CEO of Catalyst Spirits. "Campari Group's strong in-market experience and relationships enable us to easily enter these exciting whiskey markets with instant and efficient impact, allowing us to take full advantage of the growing demand globally for flavored and unflavored Bourbon.
Whiskey sales around the world have spiked in recent years, driven in great part by flavored whiskies. The global flavored whiskey market was expected to reach a value of US$27 billion by 2022, according to Future Market Insights, with North America, Europe, Latin America and Asia-Pacific driving significant volume increases. Launched in the U.S. in 2021, Howler Head sold nearly 70,000 9L cases in 2022 and has quickly become one of the fastest-growing whiskey brands in the United States.
To promote the launch in Brazil, Howler Head signed former UFC lightweight champion Charles Oliveira and UFC middleweight Caio Borralho – both hugely popular Brazilian athletes – to serve as spokespeople for the brand in marketing efforts, including Oliveira making personal appearances to greet fans in Rio during fight week of UFC 283. For the introduction in Australia, Howler Head has enlisted UFC featherweight champion Alexander Volkanovski, an Aussie himself, who is also fighting in the title fight at UFC 284.
In addition to Oliveira, Volkanovski and Barralho, Howler Head has also signed former UFC strawweight champion Joanna Jędrzejczyk and rising stars Sean O'Malley and Charles Jourdain to promote the brand globally. Through its partnership with UFC®, Howler Head has the ability to reach 700 million UFC fans worldwide.
"With bourbon whiskey serving as one of our global priority brand pillars for Campari Group and the recent positive trends in Brazil, Howler Head is an ideal fit for our local portfolio," said Gustavo Bruno, Campari Group Country Managing Director Brazil.
"In addition to being an exceptionally high-quality liquid, in line with flavored whiskey trends, Howler Head has established a clear unique brand personality and, through its deep relationship with UFC, we believe it will be a hit in Australia," said Simon Durrant, Managing Director of Campari Group Australia. "Along with Alexander Volkanovski, we will also be engaging additional fighters to endorse the brand in Australia. We are very pleased to give consumers the chance to meet and greet some of the greatest athletes in the world during the week of February 6th at UFC 284 in Perth."
Media images of Howler Head can be found HERE.
ABOUT HOWLER HEAD
Howler Head is the original banana-flavored super-premium bourbon whiskey. It starts with real, carefully crafted Bourbon made with the finest grains and mineral-rich water. The resulting Bourbon is then aged for two years in charred American white oak barrels. Following the aging, the fine Bourbon is then blended with natural banana flavor.
ABOUT CATALYST SPIRITS
Catalyst Spirits is a global spirits company focused on leveraging the new economy and our vast experience to build and rapidly grow premium brands consumers truly want. Our fine spirits portfolio includes Howler Head, the original banana flavoured bourbon and the official flavoured whiskey of UFC; The Oceanus Hibernicus, a unique blend of Irish and Scottish malt whisk(e)y; and a number of other exciting brands in development. The Catalyst Spirits team leverages hundreds of years of in-depth industry know-how to develop impactful brands and bring them to market with pace, building them with exceptional marketing, retail, ecommerce and distributor support. Catalyst Spirits is a remote-work company with team members spread across North America and Europe. For more information on Catalyst Spirits, visit http://www.catalyst-spirits.com and for Howler Head visit http://www.howlerhead.com.
ABOUT CAMPARI GROUP
Campari Group is a major player in the global spirits industry, with a portfolio of over 50 premium and super premium brands, spreading across Global, Regional and Local priorities.
Global Priorities, the Group's key focus, include Aperol, Appleton Estate, Campari, SKYY, Wild Turkey and Grand Marnier.
The Group was founded in 1860 and today is the sixth-largest player worldwide in the premium spirits industry. It has a global distribution reach, trading in over 190 nations around the world with leading positions in Europe and the Americas.
The Group's growth strategy aims to combine organic growth through strong brand building and external growth via selective acquisitions of brands and businesses.
Headquartered in Sesto San Giovanni, Italy, Campari Group owns 23 plants worldwide and has its own distribution network in 23 countries. The Group employs approximately 4,000 people.
The shares of the parent company, Davide Campari-Milano N.V. (Reuters CPRI.MI - Bloomberg CPR IM), have been listed on the Italian Stock Exchange since 2001.