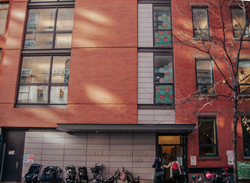 Corlears and Calhoun's longstanding relationship of overlapping values combined with a history of Corlears graduates continuing on to Calhoun makes the partnership both easy and natural.
NEW YORK (PRWEB) February 06, 2023
Corlears School and The Calhoun School, two progressive independent schools with long histories in New York City, have joined forces through an innovative partnership that strengthens their reach and ability to serve their communities. The partnership joins the two communities by providing a path for fifth grade graduates from Corlears to transfer their enrollment directly to Calhoun's middle school program for sixth grade. This new initiative also ensures that Corlears families will receive priority in Calhoun's financial aid offer timeline. The schools also plan to find opportunities to share resources and create moments of connection between families and students. Combined, these steps build a bridge between the communities that strengthens their collective position and reach in the NYC market, even while maintaining the schools as independent entities.
"Bringing these two leading institutions together through this partnership is a significant achievement for the growth and success of both schools," says David Egolf, Head of School at Corlears. "It means that Corlears is able to continue our focus on being a school made just for young children — where we have dedicated our expertise and our focus to educating children in their earliest, most formative years — while also linking us with another major NYC progressive independent school that extends through high school. Meanwhile, Calhoun is enriched by the access to Corlears graduates and a new relationship with the downtown community. As a result, Corlears and Calhoun are stronger together and able to further our common mission of educating children with a focus on social justice and community impact."
Adds Steve Solnick, Calhoun's Head of School: "We have a long history of welcoming Corlears graduates to our Middle and Upper Schools and have enjoyed watching them thrive at Calhoun. We look forward to building this partnership in the years to come."
Both schools share similar progressive education philosophies, including open-concept classrooms, a values-driven community, and a focus on inquiry-based learning. Corlears and Calhoun's longstanding relationship of overlapping values combined with a history of Corlears graduates continuing on to Calhoun makes the partnership both easy and natural.
"Our child's transition from Corlears to Calhoun was seamless and she continues to thrive in her educational journey," says a parent of a Corlears 2021 graduate. "Corlears School's commitment to a child-centered, progressive curriculum empowered our child with a solid educational foundation and learning style to call her own, which continues to be fostered at Calhoun."
Corlears prides itself on being a school dedicated to educating children during their most formative years, from toddler through fifth grade. Partnering with Calhoun will allow Corlears to remain specialized in early years education while providing families with confidence that a highly regarded school like Calhoun can be the next step in their child's educational journey.To learn more about the partnership, visit corlears.nyc/calhoun.
Contact Corlears or Calhoun if you have questions regarding the partnership, including the transfer process and financial aid.
About Corlears School:
Established in 1968, Corlears is one of the few schools in New York City that focuses exclusively on the early years of education, from toddlers through fifth grade. Corlears specializes in guiding this age group with the belief that the start of your child's academic life should be nothing short of exceptional. David Egolf has served as Head of School since 2014.
About Calhoun:
The Calhoun School is a co-educational, progressive independent school on the Upper West Side serving students from preschool through 12th grade. As Manhattan's open-concept school, Calhoun breaks down barriers and forges instructive connections between students, teachers, and the city and world at large. Its 81st Street campus (corner of 81st and West End Avenue) serves grades 3–12, and its 74th Street campus (74th and Amsterdam) serves preschool through 2nd grade.