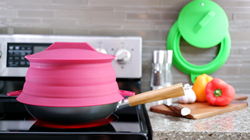 We designed SplatterDōm to be a simple, easy to use solution that goes a long way in cutting down mess while preserving full cooking functionality. It adapts to your cookware, not the other way around
THORNHILL, Ontario, Canada (PRWEB) February 07, 2023
Today L.ī.Q. Inc launched the latest edition of SplatterDōm (pronounced Splatter Dome), an innovative stovetop splatter guard that preserves not only your stovetop and counters but your joy of cooking. The handy kitchen gadget is available in two sizes (for 8 & 10-inch cookware and 10 & 12-inch cookware) on Kickstarter with pricing starting at $29 USD for the smaller size, $34 USD for the larger size and $59 USD for both models.
Existing splatter guards tend to either completely cover a dish or limit access to food while it is cooking. Most splatter guards are not adjustable and so create the facade of protection while actually leaving counters, stovetops, or the entire kitchen in shambles.
SplatterDōm sits on top of your pot or pan, is height adjustable, and can be used either fully or partially open so you can access your food while protecting the stovetop. It comes with a ventilated lid with a flat-top handle - which makes a perfect resting spot for your cooking utensils and further minimizes mess.
"The mess that results from cooking has an insidious impact on how much we cook. It's never fun to slave away cleaning a stovetop post meal" said L.ī.Q. Inc Co-Founder Anna Lubomirski. "We designed SplatterDōm to be a simple, easy to use solution that goes a long way in cutting down mess while preserving full cooking functionality. It adapts to your cookware, not the other way around."
This patented product is made of thick, food-grade silicone and is an FDA approved product. SplatterDōm can withstand temperatures up to 450F. It is both microwave and dishwasher safe, and collapses flat for easy storage.
SplatterDōm was created by a husband and wife duo, Eric and Anna Lubomirski. The two left the corporate world behind to spend more time with their two kids and focus on developing innovative kitchen products that help rid the world of cooking disasters.
Years of research and development went into the product. That process included testing using "conventional" splatter protectors, including metal mesh, foldable wall that goes around your cooking area, or anything else that sits inside your food. While these products were found to have some benefits, none of them managed to provide a holistic solution to a clean stovetop. Working with an engineering firm, and evolving the design of numerous failed prototypes, SplatterDōm came to be.
"This is a game-changer compared to traditional splatter guards as it is the only product to provide protection against various cooking messes such as boilover, grease splatter, or micro-splatter from boiling potatoes, eggs, or beets. The result is a clean stovetop while also allowing for full and uncompromised access to your pot or pan," said Co-Founder Eric Lubomirski.
SplatterDōm is now available on Kickstarter, with estimated delivery to backers in early April.
Media wishing to interview SplatterDōm personnel should contact PR agent Borjana Slipicevic at borjana@properpropaganda.net.