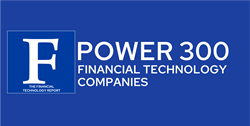 NEW YORK (PRWEB) February 07, 2023
The Financial Technology Report is pleased to introduce The Power 300 Financial Technology Companies of 2023, which represents the most important and influential companies in the financial technology sector. It is a dynamic list that will be updated from time to time as new category leaders emerge and as companies wane or are acquired. The companies listed range from specializations including payments, accounting, wealth management, banking, investing, lending, insurtech, cryptocurrency, and other areas that are changing the way businesses and individuals conduct their most important financial matters.
The companies recognized were selected based on the quality of the solutions they offer and the extent to which their solutions have been adopted by the broader market. We also evaluated organizational depth, management team caliber, company culture, and investor backing, among other attributes. This selection methodology has yielded the 300 standout international fintech companies that represent the best of the best in the industry.
Recent Events
Even for an industry built on rapid movement and characterized by seemingly sudden breakthroughs, the last twelve months have brought truly remarkable turns in financial technology, like the growing acceptance and integration of major Web3 developments such as embedded payments, digital wallets, and BNPL services. The rising prominence of digital assets including cryptocurrency and NFTs over the first half of the year also reached a fever pitch, with companies securing partnerships with major brands and celebrity spokespeople.
The infrastructure needed for the utilization of these assets saw significant development as well, leading to trusted brick-and-mortar retailers such as Walmart and Adidas announcing their own NFTs and marketplaces.
From there, the fintech world was plunged into turmoil by a series of high-profile crashes and downturns. The collapse of crypto exchange FTX sent ripples throughout the market, with investors scrambling to find redress for their lost accounts and founder and CEO Sam Bankman-Fried taken into custody by the end of the year. Despite tightening regulations as well as high inflation, supply chain issues, and interest rate hikes that have beset the wider economy, the fintech companies that have succeeded this year have demonstrated incredible resilience and flexibility.
Going Forward
The financial technology sector continues to grow and evolve to meet the needs of an increasingly complex economy and wider world. The 300 companies recognized here have proven themselves as visionary, highly technical, and user-focused organizations that are driving the industry forward towards an exciting future.
Please join us in recognizing the achievements of The Power 300 Financial Technology Companies of 2023.
About The Financial Technology Report
The Financial Technology Report is your comprehensive source for business news, investment activity, and corporate actions related to the financial technology industry. Based in New York City, the firm is run by a seasoned team of editors, writers, and media professionals highly knowledgeable on financial technology and the various companies, executives, and investors that make up the sector.