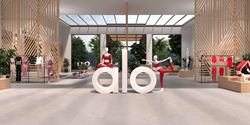 NEW YORK (PRWEB) February 07, 2023
Alo Yoga, a leading activewear and lifestyle brand, today announced it has launched an immersive digital shopping experience complete with virtual reality integration, digital styling capabilities, streaming beauty and wellness tutorials, workout classes, and seamless checkout. Alo has partnered with experiential e-commerce platform Obsess to launch the immersive virtual store, which users can experience via desktop, mobile, or the Meta Quest 2 VR headset.
"We are excited to partner with Obsess to launch the first Alo Yoga virtual store that our community can experience through the Meta Quest 2 VR headset," said Angelic Vendette, VP & Global Head of Marketing at Alo. "The immersive virtual store powered by the Obsess platform will help us reach and engage the Alo community wherever they are and allow us to share our Spring launch, along with our core collection, in a 3D environment that feels unbelievably similar to shopping in one of our stores in real life."
The Alo Yoga virtual store will enable visitors to browse, learn about, and shop Alo's collections, interact with a variety of content, and build custom outfits to visualize how different combinations of Alo tops and bottoms will look. The virtual store will also feature selected workout videos from the Alo Moves fitness platform that are typically accessible only to paid subscribers.
"Interactive shopping experiences incorporating VR are the future of e-commerce," said Danny Harris, Co-Founder and Co-CEO of Alo Yoga. "They are an exciting new way for a visionary brand like ours to reach and engage our community while transporting them directly into our world."
"Alo Yoga has a well-earned reputation as an innovative, mission-driven lifestyle brand and category leader," said Neha Singh, Founder, and CEO of Obsess. "We are proud to partner with Alo to offer its customers a next-generation shopping experience that lets them engage with the brand and its products in exciting new ways."
"We're excited to see the impact of this experience," said Anand Dass, Director, Metaverse Content Applications at Meta. "Obsess is transporting the digital storefront into virtual reality, and we are looking forward to learning how this could change the way consumers shop."
To visit the Alo Yoga immersive digital shopping experience, please click here: https://www.aloyoga.com/pages/immersive-store
A press preview of the virtual shopping experience showcasing Alo Yoga's latest collection in VR is scheduled for February 7th –8th at the Alo Yoga Flatiron store at 164 5th Avenue in New York City. To schedule a time to preview the experience, please contact Andrea.Burman@aloyoga.com.
About Alo Yoga
Alo Yoga (Alo) is a Los Angeles-based premium lifestyle brand specializing in luxury activewear with a mission to spread mindful movement, inspire wellness and create community. Since launching in 2007, Alo has become a global leader in activewear design and its franchised fabrics. Alo is eco-aware and has been W.R.A.P. Certified in a humane and sweat-shop-free environment since day one. An acronym for Air, Land, and Ocean, Alo has a studio-to-street mentality that transcends fashion and goes beyond the mat. Alo is available online at http://www.aloyoga.com and 34 Alo Sanctuaries worldwide.
About Obsess
Obsess is a leading experiential e-commerce platform that enables retailers to create immersive, branded, discovery-driven virtual stores on their websites. The mission of the company is to create the next-generation online shopping interface that transforms the thumbnail grid into a visual, interactive, social and highly engaging experience. The company is headquartered in New York City. For more information, please visit ObsessAR.com or email contact@obsessAR.com.