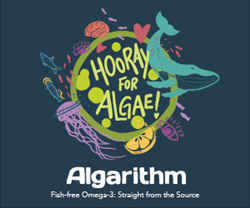 Fish-free Omega-3, Straight from the Source. Making Sustainable Algal Omega-3 Ingredients the Norm, Not the Alternative.
SASKATOON, Saskatchewan and BANGKOK, Thailand (PRWEB) February 08, 2023
Algarithm Ingredients Inc. ("Algarithm") and Thai Union Ingredients ("TUI") today announced the successful close of a multi-year manufacturing partnership, including collaboration at TUI's Global Omega-3 R&D Center. TUI recently announced an equity investment in Algarithm parent company, Mara Renewables Corp. ("Mara"); the partnership announced today further strengthens the relationship between the two companies. As the world's leading innovators of sustainably grown algae-based bio-products, Algarithm has successfully built a portfolio of the best tasting algae-based ingredients through its unique approaches to innovation and manufacturing. By going straight to the source and producing Omega-3s from algae, Algarithm has been providing brands and consumers with a safe, secure and sustainable source of Omega-3s. Algarithm's focus on sensory and customer experience has been at the heart of its purpose since its inception and has won over consumer brands of all sizes. Approved by multiple respected regulatory and certification bodies around the world — including The Non-GMO Project, Health Canada and the European Food Safety Authority — Algarithm's ingredients are utilized by leading global infant nutrition, supplement and food and beverage customers.
Brands of all sizes have recognized that in the era of information; transparency, traceability and purpose are not only relevant to B2C needs, but required through the whole supply chain. Algarithm has worked diligently to support brands in their work to shed light on what ingredient supply chains look like and what the ingredient companies behind most CPG companies do.
"Algarithm is very excited to finalize our partnership with Thai Union Ingredients, together we believe that Algarithm and TUI can provide a dependable and differentiated plant-based ingredient solutions," said Ben Kelly, President of Algarithm. "This new partnership will allow Algarithm to continue our aggressive growth trajectory and further expand new R&D and manufacturing initiatives. While Algarithm is proud and committed to maintaining a vegan-friendly business that produces no animal-derived ingredients, we have long acknowledged that algal Omega-3 ingredients have been built on a knowledge of processing and supply chains established by vegetable and fish oil industries. As a global leader in the marine Omega-3 space, Thai Union has a history and reputation for providing high quality ingredients. This partnership empowers us to leverage scale and quality systems that move us closer to our long-term goals — making sustainable algal Omega-3 ingredients the norm, not the alternative."
"Thai Union is excited to announce this new partnership; as long-term, reliable and consistent suppliers to the infant formula industry, we believe that in working with Algarithm, we can continue to offer our existing customers and new customers a secure and reliable supply chain for safe, sustainable infant formula ingredients," said Leon Coolen, Managing Director of Thai Union Ingredients.
"TUI has invested in a brand new, state of the art Omega-3 oil refining factory in Rostock, Germany. In this factory, the latest technology has been installed, allowing us to produce very pure Omega-3 oils, with the best sensory properties available in the market. Together with Algarithm, we are going to serve our customers with great products."
Since the company's inception in 2017, operating for a purpose greater than profit has been central to Algarithm's mission. For members of Algarithm, being part of a team that not only creates the best tasting ingredients in the world, but also contributes to the nutritional and environmental health of the globe with transparency, honesty and integrity, is a core reason to invest their time and talent into Algarithm.
About Algarithm:
Algarithm produces plant-based, ocean-friendly Omega-3 ingredients derived from micro-algae.
Our Omega-3s top the charts in fresh, undetectable taste, stability and versatility. Through our patented processes, innovative delivery methods and novel applications, we strive to make the consumption of Omega-3s easy, enjoyable and eco-friendly for everyone. Algarithm was founded in 2017 and has since grown to be a leader in the plant-based Omega-3 space. The company is currently the only algal Omega-3 supplier in North America that does not produce or profit from ingredients derived from animals. Their success to-date can be attributed to a focus on developing strategic partnerships with values-aligned brands that prioritize transparency, traceability and consumer enjoyment and strive to offer consumers valuable products, and education regarding health, helpfulness, happiness and harmony.
More Information: http://www.algarithm.ca
LinkedIn: https://www.linkedin.com/company/algarithmingredients
Multimedia: https://vimeo.com/user104850341
About Thai Union Ingredients:
Thai Union Group PCL is the world's seafood leader, bringing high quality, healthy, tasty and innovative seafood products to customers across the world for 45 years.
Today, Thai Union is regarded as one of the world's leading seafood producers and is one of the largest producers of shelf-stable tuna products with annual sales exceeding THB 141.0 billion (US$ 4.5 billion) and a global workforce of more than 44,000 people who are dedicated to pioneering sustainable, innovative seafood products. The company's global brand portfolio includes market-leading international brands such as Chicken of the Sea, John West, Petit Navire, Parmentier, Mareblu, King Oscar, and Rügen Fisch, Thai-leading brands SEALECT, Fisho, Qfresh, Monori, OMG Meat, Bellotta and Marvo, and ingredient and supplement brands UniQ®BONE, UniQ®DHA and ZEAvita.
As a company committed to innovation and globally responsible behavior, Thai Union is proud to be a member of the United Nations Global Compact, and a founding participating company of the International Seafood Sustainability Foundation (ISSF). In 2015, Thai Union introduced its SeaChange® sustainability strategy. Find out more at seachangesustainability.org. Thai Union's on-going work on sustainability issues was recognized when the company was listed on the Dow Jones Sustainability Indices (DJSI) for the eighth consecutive year in 2021 and ranked number two in the world on the Food Products Industry Index. Thai Union was also named to the FTSE4Good Emerging Index for the fifth straight year in 2020.