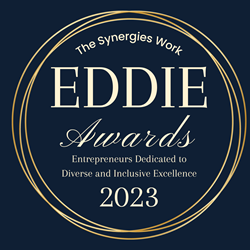 We're thrilled by the excitement preceding the EDDIE Awards and encourage all entrepreneurs with disabilities to apply for this important recognition -Aarti Sahgal, CEO and founder of Synergies Work
ATLANTA (PRWEB) February 07, 2023
Synergies Work, an Atlanta nonprofit that supports entrepreneurs with disabilities, today announced that CareSource, a mission-driven Medicaid plan serving more than 500,000 Georgians, has signed on as the headline sponsor of the inaugural EDDIE Awards, created to recognize and celebrate innovative business owners with disabilities from across the country. The first-ever awards event will be held April 27 in Atlanta, with nominations closing March 1.
Additional sponsors currently include The Coca-Cola Foundation, Georgia Advocacy Office, Georgia Department of Behavioral Health and Developmental Disabilities, and National Association of Councils on Developmental Disabilities. For sponsorship information, go here.
Nominations in the following categories are being accepted now through March 1:

Creativity Award — an entrepreneur making an impact on the world through any form of creative media such as art, music, fashion, film, and writing.
Newcomer Award — an entrepreneur who has launched their business within the last 12 months and is providing an innovative solution in their industry.
Social Impact Award — a leader on a mission to change their community and the larger world. Their business works to solve inequalities and address systemic problems.
Techpreneur Award — an entrepreneur who is using technology to innovate, change, and expand the realm of possibility for their industry.
To read the full application requirements and to be nominated for an EDDIE Award, go here.
Additionally, Synergies Work will select from the category finalists an Entrepreneur of the Year who will receive a $10,000 prize to further their business aspirations. All finalists will receive an all-expenses-paid trip to the EDDIE Awards to take part in the evening's celebration.
"We're thrilled by the excitement preceding the EDDIE Awards and encourage all entrepreneurs with disabilities to apply for this important recognition," said Aarti Sahgal, CEO and founder of Synergies Work. "Since 2016, our organization has been working to bridge the economic, opportunity, and network gaps between the disability and business community. The EDDIE Awards are a celebration of our most innovative entrepreneurs and our attempt at challenging the negative stereotypes and ableist viewpoints that are prevalent."
"We are honored to be the headline sponsor for the inaugural EDDIE Awards," said Jason Bearden, CareSource Georgia Market President. "The awards are the first in the United States to spotlight entrepreneurs within the disability community who are not only making an economic impact, but who are living their lives to the fullest using their skills and talents."
To date, Synergies Work has supported over 200 entrepreneurs and helped launch over 70 new startups. The nonprofit is committed to the goal of supporting one million new entrepreneurs with disabilities by 2027.
A video that tells the Synergies Work story can be viewed here.
Become a Founding Sponsor of the EDDIE Awards Corporations and organizations have the opportunity to be a founding sponsor of the EDDIE Awards, helping to shine a spotlight on deserving and talented entrepreneurs with disabilities. Sponsorships are available at multiple levels, with each offering a range of benefits.
To learn more about founding sponsorship opportunities, go here.
About Synergies Work
Founded in 2016, Synergies Work is the largest business incubator and accelerator for entrepreneurs with disabilities in the United States. The organization serves entrepreneurs at every stage of their journey—from ideation to exit. With the goal of building one world where people with disabilities belong, Synergies Work helps entrepreneurs with disabilities launch, grow, and maintain sustainable small businesses. Its approach is based on a fundamental belief that all individuals have boundless talent, an inherent curiosity to explore, and a passion to succeed. Synergies Work has received the Dave Hammis Innovation Award from the APSE (Association of People Supporting Employment First) and received second place and Audience Favorite grants from Truist Foundation's Inspire Awards. The nonprofit is also part of the Moonshot Initiative in partnership with SmartJob and Enable Ventures which was announced at the Clinton Global Initiative. For more information on Synergies Work, visit http://www.synergieswork.org