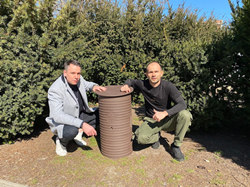 Natural nest habitat is critical for the preservation and renewal of the health and resiliency of honey bees.
EDINBURGH, United Kingdom (PRWEB) February 15, 2023
The LACRIMA Foundation, an Edinburgh-based NGO committed to honey bee conservation and protection, today announced its nomination for the prestigious 2023 Earthshot Prize. The nomination comes on the heels of the foundation launching its cutting-edge 3D Printed Wood Log Hive designed to protect and conserve honey bee populations.
The Earthshot Prize recognizes organizations and projects developing innovative solutions that will repair the planet in this decade. Founded by His Royal Highness Prince William of Wales, The Earthshot Prize aims to help finalists scale their efforts with special programming and award five prize winners over the next decade with £1 million to advance their mission.
The LACRIMA Foundation's 3D Printed Wood Log Hive with the latest High Tech Hive Monitoring System advances the Earthshot's mission to protect and restore nature. In recent years, increasing global attention has been paid to the decimation of the world's honey bee population and their critical role in balancing our fragile ecosystem. Despite this attention, honey bee populations continue to decline rapidly due to habitat loss, pesticide exposure, and disease.
In response to these challenges and to advance its mission of protecting honeybees and championing holistic beekeeping practices, The foundation developed a first-of-its-kind product to dually transform the beekeeping landscape and the natural ecosystem of honey bees.
After years of research and development into historical beekeeping practices and natural honey bee habitats, The LACRIMA Foundation launched its 3D Printed Wood Log Hive to preserve and renew the health and resiliency of honey bees. The hive utilizes traditional Bashkir man-made cavity log hives and fully biodegradable wood filaments to recreate the hive environment.
"Natural nest habitat is critical for the preservation and renewal of the health and resiliency of honey bees," said Vince Moucha, founder and CEO of The LACRIMA Foundation. "We've bridged the gaps between high-tech and nature by recreating the natural hive structure to provide bees an opportunity to live in an undisturbed ecosystem in synergy with their seasonal rhythms. To be recognized for this work and nominated for the prestigious Earthshot Prize is an honor and will help us gain attention for this vital project."
The LACRIMA Foundation is self-supporting its 3D Printed Wood Log Hive project. To generate the funds to advance its hive technology, the foundation has created the LACRIMA luxury brand. LACRIMA collaborates with ultra-high-end luxury producers to create unique, limited-edition objets d'art. The most recent collaboration includes the Tear of Hope by Czech luxury brand and manufacturer of fine crystal Moser, presenting the world's rarest honey in a stunning luxury crystal glass bottle. The LACRIMA Foundation also raises funds and spreads awareness by creating charity honey bee bracelets.
The LACRIMA Foundation currently has its sights set on expanding its conservation efforts in the United States and invites local business partners to join them in its efforts. The foundation is also looking to raise venture capital from US investors in its quest to achieve its honey bee sustainability global goals.
To learn more about The LACRIMA Foundation and its 3D Printed Wood Log Hive technology, visit lacrimafoundation.org.