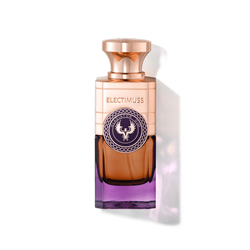 "Our inspiration for this scent is a noble warrior. A gladiator with the courage, power, wisdom and skill necessary to win. To realise this we collaborated with master perfumeur, Julien Rasquinet. Gladiator Oud is a magnetic, unisex and effortlessly confident scent. "
LONDON (PRWEB) February 23, 2023
Gladiator Oud Perfume Global Launch 9th March 2023
Niche perfume brand Electimuss London is renowned for its opulent fragrances inspired by Ancient Rome. Introducing the latest launch of Gladiator Oud perfume into the Emperor Collection - incorporating exquisite oils and resins of rare quality.
Under the Creative Direction of Claire Sokell Thompson, Julien Rasquinet has created Gladiator Oud combining courage and nobility - inspired by Maximus Decimus Meridius the legendary Gladiator played by Russell Crowe.
Inspired by the famed Gladiators of Ancient Rome, tactical warriors who dominated and entertained in the Coliseum, Gladiator Oud opens with a powerful and thrilling accord of salty, elemental ambergris. Cardamom combines with the cool of Egyptian geranium for an impression of steel and strength. Hay absolute, Haitian vetiver and cumin seed capture the sun warmed earth of the gladiatorial arena. Oud oil and cedarwood bring nobility and elegance to the battle, with the gold and glory of victory elicited through accords of intense saffron and honey.
RRP £395 €445 $500 for 100ml
FRAGRANCE NOTES AND INGREDIENTS
Olfactive Family: Amber Spicy Oud
TOP:
Saffron Accord
Cumin Seed Oil
HEART:
Honey Accord
Geranium Oil Egypt FOR LIFE LMR
Hay Abs LMR*
Immortelle Abs Balkan LMR
BASE:
Oud Oil LMR*
Patchouli Oil Indonesia FOR LIFE LMR*
Ambre Gris Accord
Cedarwood Oil Atlas
Vetiver Haiti For Life LMR*
Claire Sokell Thompson, Creative Director:
"Our inspiration for this scent is a noble warrior. A gladiator with the courage, power, wisdom and skill necessary to win, but also a natural born leader with confidence, integrity and dignity. We imagined a charismatic
character commanding deep respect and affection like Maximus Decimus Meridius the legendary Gladiator played by Russell Crowe.
My dream was to create an iconic perfume befitting the name: an addictive and wearable oud combining the skill and physicality of a combat with the nobility of a true leader; all within the impressive theatre of the gladiatorial arena.
To realise this we collaborated with Julien Rasquinet. Gladiator Oud is a magnetic, unisex and effortlessly confident scent. "
From the Perfumer - Julien Rasquinet
"For this fragrance, I wanted to embody the virility and honour of the gladiator. With Oud, I gave this the very amber, animalic facet of the fierce and courageous fighter.
I added a bold touch of gold with Honey and Hay to celebrate his success. Finally, as he enters the arena, the respected gladiator is imbued with elegance and refinement by the noble scent of Maximus Decimus Meridius."
Julien Rasquinet,
Master Perfumeur