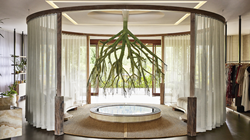 PÉREZ ZELEDÓN, Costa Rica (PRWEB) February 13, 2023
Hacienda AltaGracia, Auberge Resorts Collection, the world's preeminent well-being destination, located in the foothills of Costa Rica's awe-inspiring Talamanca Mountains, is announcing the next iteration of their Visiting Masters program, a wellness concept led by world-class healers, thought leaders and industry experts at THE WELL at Hacienda AltaGracia. Inspired by the vitality and spirit of Costa Rica, the program is designed to heal the body, mind and spirit through bespoke treatments, movement-driven activities and innovative experiences. For 2023, the resort is offering new wellness retreats and longevity programs curated by THE WELL that will bring guests together in real life, creatively and with intention. Each program is aimed to leave attendees feeling nurtured, grounded and inspired to connect with the world around them.
"There is an increased focus on the development of new spaces and experiences that bring people together, especially as it relates to wellbeing. This new wellness programming provides our guests with access to the most innovative treatments, products, practitioners and experiences that will help guide them towards achieving their personal wellness goals, ensuring they are leaving feeling better than when they arrived, and more connected with the community around them." says Mark Wright, General Manager, Hacienda AltaGracia, Auberge Resorts Collection. "The Visiting Masters are true experts who will lead these retreats and classes of exciting, interactive and engaging experiences for all to enjoy."
Trailblazing the well-being scene to balance harmony and adventure for luxury travelers, Hacienda AltaGracia, Auberge Resorts Collection's new series of collaborations will infuse each of the master's expertise while reflecting local wellness customs and embracing the unique natural surroundings.
Visiting Masters and Retreat Highlights Include:
● Yamuna Jivana | February 11-19 - With 25 years of experience studying forms of healing techniques from countries such as Brazil, Peru, India, Mexico, and Costa Rica, Yamuna Jivana's main focus is to help guests with physical pains, and emotional blockages and spiritual connections. Attendees will experience customized integrative energy work sessions, which utilize techniques such as Reiki, chakra balancing, aura readings, and energetic massages to create a personalized healing journey. For guests celebrating Valentine's Day, there will be a private Ceremonial Cacao Ritual available. The intimate experience, which draws from the spiritual tradition of Central American and utilizes the ceremonial elements of cacao, includes a full body exfoliation and relaxing couples massage.
● Valerie Oula | February 20 - March 12 - A native New Yorker, and the Director of Vibrational Energy Healing at THE WELL and Founder of Modern ritual NYC, Valerie Oula is a meditation and yogi movement instructor, as well as a reiki master and energy medicine practitioner. Her integrative classes will include a lunar gong bath, energy healing circle, release burning ceremony and meditations.
● Laura Rubin | March 13-31 - Since establishing AllSwell a decade ago, Laura Rubin has changed the cultural narrative around "keeping a journal," empowering individuals in the process. A passionate champion for the written word, she grounds her group experiences and 1:1 creative coaching sessions in scientific research to shift the perception of this accessible modality for greater mental, emotional and physiological wellbeing. Her classes at the resort will include devotional walking and moving meditations, gratitude workshops and journaling in nature. One experience, titled Waves & Reflection, is an ocean themed journaling workshop that offers participants a day of relaxation and thoughtful reflection on the Pacific Coast.
● Rashia Bell | April 1-24 - Rashia Bell is an energetic designer and crystal healer as well as founder of The Cristalline, a holistic energy lifestyle company that serves to help one find greater balance and alignment. Rashia will host private and group offerings, all rooted in intuitive connectivity, through a mind, body and spiritual connection with natural crystal stones. Her classes will include lunar energy ceremonies, healing chakra meditations and yoga classes, intuitive crystal card readings, myofascial energetic therapy and a workshop exploring the energetic alchemy of your home, where participants will discuss the concepts of energy, how it affects our spaces and ultimately impacts our lives.
● AllSwell Creatively Unplugged Retreat with Laura Rubin | March 20-22 - Tap into the natural surroundings of Hacienda AltaGracia for a multi-day retreat hosted by journaling expert and creative coach, Laura Rubin. Practice daily mindful writing sessions designed to help build upon guests' personal vision and creative expression.
● Danielle Beinstein Solar Eclipse Retreat | April 19-24 - Guests can gather at the start of Taurus season, for a heart-opening retreat led by psychological and intuitive astrologer, Danielle Beinstein. Attendees will enjoy daily workshops inspired by the solar eclipse that blends breathwork and meditation with the fundamentals of astrology, allowing you to connect to your deepest self.
● Lauren Boggi Activation Retreat | May 4-8 - Join fitness artist and expert, Lauren Boggi, for the Activation retreat – an immersive, life-changing, results-focused wellness experience created to lead individuals to immediate and powerful change within every aspect of life. This multi-day retreat features transformative movement, connection to Mother Earth, tools and practices, soulful conversations and plenty of dancing.
A well-being destination like no one has ever seen before, THE WELL at Hacienda AltaGracia is the most innovative of its kind in the world and the largest in Central America. The world-class program features East-meets-West healing practices, expert-led health coaching and workshops, and transformative spa treatments. As the first international destination of THE WELL, the leading wellness brand known for their holistic approach, the resort introduces Talamancan healing traditions for a wellness experience like no other, bringing advanced therapies and integrating local healing traditions to life in a breathtaking setting.
For more information on the Visiting Masters program and wellness retreats, or to book a stay, please visit altagracia.aubergeresorts.com.
About Hacienda AltaGracia, Auberge Resorts Collection:
Tucked away in the lush mountains of Pérez Zeledón in the southern region of Costa Rica, Hacienda AltaGracia, Auberge Resorts Collection is an escape for those seeking total well-being and unbridled adventure. Located adjacent to one of the world's five "Blue Zones,'' where locals live to more than 100 years of age, the resort brings well-being to life like nowhere else in the world. In partnership with THE WELL, one of the world's top holistic wellness providers, the experience is built on the belief that transformative well-being should be both peaceful and exhilarating. Set amongst 180 birdsong-filled acres of rolling hills and untamed tropical forest, the property offers 50 spacious hacienda-style casitas featuring picturesque views and an indoor/outdoor living experience. Amenities include THE WELL, a coffee farm, a pool with panoramic views, equine stables and an organic chef's garden. The resort is home to several distinct dining destinations including Grano, Hacienda AltaGracia's signature restaurant; Cienfuegos, an open-fire grill restaurant; Picoteo, the resort's poolside eatery; Las Brisas, a laid-back rancho bar, and a coffee bar called Mercado. Hacienda AltaGracia's programming and bespoke approach distinguish the guest experience with personalized itineraries and service. All guests are tended to by a dedicated Compa, a liaison and experience designer, who plays a pivotal role in the stay.
For more information about Hacienda AltaGracia, Auberge Resorts Collection please visit altagracia.aubergeresorts.com.
Follow Hacienda AltaGracia on Facebook and Instagram @AltaGraciaAuberge
About Auberge Resorts Collection
Auberge Resorts Collection is a portfolio of extraordinary hotels, resorts, residences and private clubs. While each property is unique, all share a crafted approach to luxury and bring the soul of the locale to life through captivating design, exceptional cuisine, innovative spas, and gracious yet unobtrusive service. With 25 one-of-a-kind hotels and resorts, Auberge invites guests to create unforgettable stories in some of the world's most desirable destinations.
For more information: aubergeresorts.com
Connect with Auberge Resorts Collection on Instagram, TikTok, Facebook, Twitter and LinkedIn @AubergeResorts and #AlwaysAuberge
About The Friedkin Group:
The Friedkin Group is a privately-held consortium of automotive, hospitality, entertainment, sports and adventure companies. These organizations include: Gulf States Toyota, GSFSGroup, US AutoLogistics, Ascent Automotive Group, Auberge Resorts Collection, AS Roma, Imperative Entertainment, 30WEST, NEON, Diamond Creek Golf Club, Congaree and Legendary Expeditions. The Friedkin Group is led by Chairman and CEO Dan Friedkin. For more information, visit http://www.friedkin.com.
Media Contact
Murphy O'Brien
alg@murphyobrien.com
###