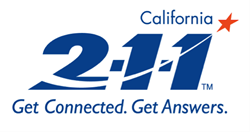 "We now have the dynamic leadership needed to advance and expand 211 services to better serve Californians, and be a critical resource to our policymakers, leaders, and community partners" -Richard Abrusci, Board Chair, 211 California
LOS ANGELES (PRWEB) February 10, 2023
California 211 Providers Network (211 California) is jubilant in announcing Alana Hitchcock, a veteran public sector and nonprofit leader, and former senior leader at 211 LA County (211 LA), as its new Executive Director and CEO. This announcement comes as the country celebrates National 211 Day (February 11th) and elected officials, community organizations, and 211 providers convene at the 2023 211 State of Need Summit, hosted by Inland SoCal United Way and featuring Hitchcock and California State Senator Rosilicie Ochoa Bogh as guest speakers.
211 California is a nonprofit membership organization supporting individual 211 providers across California, who provide comprehensive community and social service referrals, care coordination, case management, and connection to the most vulnerable and difficult to reach populations, through the 2-1-1 helpline, internet, and text inquiries. The nonprofit providers throughout the state helped nearly 2 million people in 2022 with live, skilled guidance and expertise, helping them connect to critical services such as housing and homeless services, COVID health and financial resources, disaster relief and more. Beyond the information and referral services it is most known for, 211 providers also arrange transportation to services, enroll people in benefits programs, coordinate care between health and social service providers, and have real time data to share with local and state agencies to help determine unmet and emerging community needs. In 2023, 211 California is poised to expand care coordination and disaster response service offerings under Hitchcock's leadership.
"I am honored to take on this job and help connect people across my home state of California with helpful and often critical services they may not have known existed," said Alana Hitchcock, Executive Director, 211 California. "At 211 LA, I saw firsthand how much of an impact these services could have, especially during the pandemic, when we helped people find food and resources to stay in their homes. In a world of chatbots and artificial intelligence, there is real power in local knowledge and human connection, and our providers across the 211 network have that. I look forward to working with all of our amazing partners to take 211 services in California to the next level."
"The 211 network is a crucial asset to the communities it serves across the state, and has historically been under recognized for the impact it has made, and the further potential it has to partner with agencies to help combat our state's fight on poverty, homelessness, hate crimes, and preparing for and responding to disasters," said Richard Abrusci, Board Chair, 211 California. "With Alana's expertise and unique experiences prior to joining 211 California, we now have the dynamic leadership needed to advance and expand 211 services to better serve Californians, and be a critical resource to our policymakers, leaders, and community partners."
211 California will be announcing several statewide programs and partnerships in the coming months that support high priority state initiatives. Says Hitchcock, "211 providers have been stepping up in a big way throughout the COVID pandemic and disasters that have hit our state. Our effectiveness as a network for quickly implementing new programs that actually reach the people who need them is leading to exciting new opportunities to innovate service delivery models. As the leader of 211 California, I will continue to build on these successes, and look forward to announcing new projects in the near future."
Hitchcock most recently served as Senior Director, Information and Community Engagement at 211 LA, where she worked since 2016. At 211 LA, Hitchcock was instrumental in spearheading several initiatives that helped thousands of people in LA County and expanded access to online 211 services. This became extremely relevant during the COVID-19 pandemic, as 211 LA was able to lean into its technology and meet the needs of vulnerable communities across the county. Some of her most notable accomplishments at 211 LA include:

Led a successful community campaign to keep 211 services in LA County community centered and locally staffed
Partnered with LA County Development Authority to run the COVID rent relief program in LA County that provided $117 million in assistance, serving more than 14,000 households with full rental support paid to landlords in the first year of the pandemic, including proactive outreach to tenants who could benefit from this program
Helped found LA County's first long-term disaster recovery group to assist victims of the 2018 Woolsey Fire, one of the largest in Southern California history
Led 211 California's advocacy campaign to pass SB1212 (Hueso), which provided critical infrastructure and established disaster-related support services through the local 211 number in rural counties
Led 211 LA's complete rebrand, new website and the development and launch of new online service and search tools, including foodfinder.211la.org, and grew website users nearly fourfold to 1.2 million per year
Hitchcock's past experience includes running an award-winning social enterprise business and working for the State of California on statewide grants programs and as an Executive Fellow.
At 211 California, Hitchcock will place a distinct focus on expanding awareness of 211 services to policymakers, funders, and programs seeking to connect people to services, build the capacity of the statewide network to serve Californians' current and emerging needs quickly and effectively, and innovate the 211 service to enhance connections to services and service providers. The network will also look for mutually beneficial partnerships with third-parties, leveraging 211 California's extensive infrastructure and reach to vulnerable and hard to reach populations.
About California 211 Providers Network (211 California)
211 California is a 501 c(3) organization dedicated to supporting 2-1-1 organizations throughout California in coordinating services and providing access to community resources for the betterment of California residents as well as providing crucial information in times of disaster response and recovery. Together, the 211 network works around the clock to provide accurate information and referrals to meet the needs of 211 help seekers. 211 services are free and confidential, available 24/7 with assistance in over 200 languages, with coverage for 97.5% of Californians.