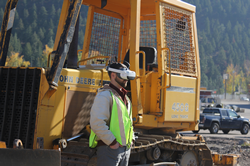 "Gaize was created to solve the problem of cannabis and drug impaired drivers and safety-sensitive workers. It's a rapid screening tool that's portable, non-invasive, and based on eye-movement tests with a long history of successful use." - Ken Fichtler, Gaize Founder and CEO
MISSOULA, Mt. (PRWEB) February 13, 2023
Today, Gaize announced the launch of their real-time impairment screening device. The product is a first-of-its-kind fully automated, non-invasive and portable eye movement test. It combines well-established Drug Recognition Expert (DRE) eye examinations with the latest in artificial intelligence. Drug Recognition Expert eye tests are widely considered the gold standard for impairment detection, with 40+ years of successful use, many scientific studies on their effectiveness, and court acceptance in all 50 states. Gaize runs these same tests, exactly according to the DRE training manual, using a VR headset with embedded eye tracking sensors. The resulting data is then analyzed by machine learning models to discover involuntary eye movement changes which are correlated with impairment. This product launch comes following a recently completed clinical trial using the Gaize product, which was the largest in the world to ever investigate cannabis impairment.
Ken Fichtler, Gaize Founder and CEO said: "I created Gaize to solve the problem of cannabis impaired drivers and workers. THC behaves markedly differently in the body than does alcohol, and it can linger in the body for over a month since the last use. No amount of THC in the body has never been shown to produce a predictable level of impairment, so simply measuring THC is not indicative of impairment. Particularly in places where cannabis is legal, what we really care about is whether or not someone is impaired, not if they've used cannabis previously."The results of the test are easy to interpret and each test is also backed by video evidence of the eye movement. From this, Gaize customers can easily and confidently make defensible decisions. Results are delivered in just 6 minutes from the time the test is started, enabling much more frequent impairment screening.
Fichtler said, "We envision a world where drivers and workers are verifiably sober before engaging in any safety sensitive task. With Gaize, companies can test employees each day before the start of shift, after a lunch break, or before operating equipment."Fichtler ended by saying "We've had our heads down following the science and building this product for over two years. To have it come to market today feels great. It's going to be truly revolutionary for maintaining safe roads and workplaces with fewer preventable impairment related deaths and injuries."
The product is available to commercial customers starting today. To learn more, visit http://www.gaize.ai.
Members of the Press are encouraged to contact support@gaize.ai.