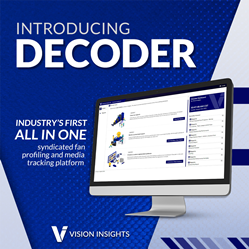 This partnership...is pushing the industry forward to where it needs to be in order to understand sponsorship value as precisely as brands understand digital marketing and other advertising ROI.
DUBLIN and NEW YORK CITY (PRWEB) February 14, 2023
Visual-AI leader, VISUA, today announces a key strategic partnership with Vision Insights, which will see the integration of VISUA's class-leading Visual Sports Sponsorship Monitoring Engine into Vision Insights' new Decoder platform. The sponsorship monitoring industry has, since its inception, lacked a single cohesive platform that brings together deep consumer research with precision-based media insights.
Decoder will allow, for the first time, sports teams, agencies, and sponsors to not only understand fans' attitudes to brands and purchase intent, (among other stats), but also to explore how detailed analysis of game footage can drive that data by uncovering which types of exposures deliver the highest return on investment.
VISUA's Sponsorship Monitoring Engine delivers best-in-class accuracy and unparalleled speed of analysis. Additionally, its patented Adaptive Learning Engine enables instant logo learning and allows new brand logos to be added to its unlimited logo library, so detections are possible within hours of broadcast capture. But at the core of the Sponsorship Monitoring Engine is VISUA's capability to process broadcast footage at full frame-rate, delivering up to 2,900% more detail than other providers that only process small numbers of frames per second.This collaboration follows exhaustive investigations and tests of multiple Visual-AI/Computer Vision solutions by Vision Insights, whose findings were that VISUA was the only company with the technology and capabilities to deliver the functionality, accuracy and reliability required to meet their needs, both today and in the future.
Commenting on this release, Scott Horowitz, CEO, Vision Insights, said "As a veteran in the sports intelligence industry, it was fair to say that, having seen the results of numerous computer vision offerings, I was skeptical that anyone could meet our requirements of delivering the most precise data in a timeframe that would span hours and days, rather than weeks. VISUA's technology exceeded our expectations and will allow us to deliver the same levels of precision and response from our media exposure data than we do in fan insights.
"Vision Insights COO Tracy Schoenadel, adds, "Our approach with Decoder was to eliminate assumptions and inferences from our media insights. So, as important as the technology was, our choice of partner was also influenced by their experience in sports media analysis and their flexibility and willingness to work with us to allow the chosen computer vision engine to meet our specific analysis requirements and unique scoring system. It was clear from our first meeting that VISUA would meet all these needs and I am delighted to welcome VISUA as a trusted Vision Insights partner."Discussing the partnership, Luca Boschin, CEO and Co-Founder of VISUA said, "We have had many conversations with sports intelligence platform providers over the years, but Vision Insights was the first to truly understand the importance of reliable visual intelligence and how it could enhance consumer data. This partnership represents an exciting new chapter for VISUA and a confirmation of the positive impact that Visual-AI can deliver. Vision Insights is pushing the industry forward to where it needs to be in order to understand sponsorship value as precisely as brands understand digital marketing and other advertising ROI. We are thrilled to be partnering with Vision Insights on this truly exciting journey."- - ENDS - -
About VISUA
VISUA boasts best-in-class Visual-AI that powers the world's leading brand and sponsorship monitoring, cyber security, brand protection, and authentication platforms. VISUA delivers technologies such as logo/mark detection, text detection, object & scene detection, and visual search, that are used by world leading companies for applications as varied as sports sponsorship monitoring, social listening, and phishing detection, to holographic authentication and counterfeit product detection. Its Visual-AI technology is proven to deliver the highest precision with instant learning, at unlimited scale, and is adaptable for any use case. VISUA believes in People-First AI, they see a world where Visual-AI will lift humanity out of the mundane, empowering a society that focuses more on creativity and collaboration and less on binary tasks, and empowering services and solutions that humans alone simply can't deliver. For media inquiries please contact:Franco De Bonis
Marketing Director
VISUA
press@visua.com
Website | Twitter | LinkedIn | YouTube
About Vision Insights
Vision Insights is a research and insights firm built for the sports & entertainment industry. Vision provides sports marketers with the necessary products & services to learn more about who their fans are and the unique value their target audiences afford sponsors and advertisers in sports. Founded in 2022 by Tracy Schoenadel and Scott Horowitz, Vision Insights already works with some of the sports world's most notable teams and sponsors assisting them with building syndicated and custom solutions that monitor the effectiveness and efficiency of sports investments.Website