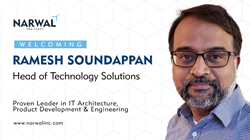 "I joined Narwal's leadership team because of its obsession towards customer and employee success," said Ramesh.
CINCINNATI (PRWEB) February 14, 2023
With 25+ years of experience, Ramesh brings world-class technology leadership and expertise to Narwal's growth journey. Prior to this role, he has been the VP & Head of Product Development and Engineering at Notified (part of West Technology Group/formerly Intrado), SVP & Chief IT Architect at Fifth Third Bank, and been an IT architect at IBM with a focus on the financial services industry.
Ramesh has spent decades strategizing, designing, developing, and deploying enterprise-scale systems, creating competitive advantages and operational efficiencies for companies. At Narwal, Ramesh as the Head of Technology Solutions will have a significant impact on the company's direction and success, providing innovative solutions to assist its Fortune 1000 clients. With his expertise, Narwal can help its clients stay ahead of the curve.
"As our clients embark on modernization and transformation journeys, we need to provide them with world-class technology solutions & services, so we are excited to bring Ramesh onboard," Raj Kanuparthi, Founder and CEO at Narwal said. "With his addition, Narwal can help its clients navigate the complex and constantly-evolving technology landscape and achieve their business goals. This is an exciting time for Narwal, and I'm sure Ramesh will play a crucial role in its future success."
"I joined Narwal's leadership team because of its obsession towards customer and employee success," Ramesh said, adding, "It is very exciting to work with an exceptional organization that wants to provide amazing technology solutions to solve customer challenges with a razor-sharp focus on quality delivery."
Narwal is a niche technology solutions and services company that partners with Fortune 1000 companies in the areas of Data, Automation, and Cloud. Narwal's customer-centric, people-first approach with deep expertise and thought leadership ensures significant improvements in ROI. We help our customers turn data into business value, realize speed-to-market, higher quality, and scalability of business.