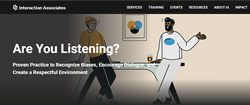 "The ability to connect and understand others, whatever differences we have and hold, is an essential skill for fostering a more civil and inclusive society." --Barry Rosen
BOSTON (PRWEB) February 13, 2023
Interaction Associates (IA) a leading provider of training and consulting services to Fortune 1000 companies, governments agencies, and not-for-profit organizations announced a free live webinar, "Are You Listening: Techniques for Listening as an Ally," to occur on February 23, 2023, from 1:00 - 2:00 pm E.T. The event will help attendees learn how to recognize bias, guide a difficult conversation, and build understanding among people with different life experiences and points of view.
The event features IA CEO Barry Rosen and Senior Consultant Rachael Grail, both of whom work with leaders to develop their own collaboration skills and build the collaborative capacity of their teams and work groups.
Listening as an Ally is a powerful practice developed by Barry Rosen that helps people think more clearly and respond more thoughtfully to others even when talking about difficult subjects or facing adversarial behavior.
Attendees will learn skills that help them:

Recognize their own biases that can interfere with how they listen to others and take other viewpoints into consideration.
Facilitate conversations that create alignment instead of antagonism.
Access their curiosity and empathy so they can fully appreciate another's point of view.
Build mutual trust rather than fracture the relationship.
"Taking sides is an understandable response to many human dilemmas. But it rarely solves a problem or creates the conditions for living or working in harmony. The ability to connect and understand others, whatever differences we have and hold, is an essential skill for fostering a more civil and inclusive society," said Barry Rosen, CEO of Interaction Associates.
To register for the webinar, visit interactionassociates.com/events/listeningasanally-webinar.
About Interaction Associates
Interaction Associates (IA), is a leading provider of training and consulting services aimed at building collaborative leadership capacity and organizational culture. For over 50 years, IA has provided thousands of leaders and teams with practical programs, tools, and techniques for leading, meeting, and working better together across functions, viewpoints, and geographies. Learn more by visiting https://www.interactionassociates.com/.