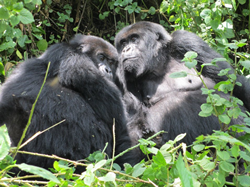 Augustin Tours helped us plan our Rwanda adventure - taking care of all the details, handling all the logistics, and pairing us with a knowledgeable and flexible guide who introduced us to Rwanda.
KIGALI, Rwanda (PRWEB) February 14, 2023
Augustin Tours, a leading provider of cultural and wildlife tours in East Africa, is proud to announce its latest 11-day Trekking Gorilla Rwanda Discovery Tour. The tour offers travelers the opportunity to immerse themselves in the rich cultural heritage, diverse wildlife, and stunning nature of Rwanda, one of the most beautiful and unspoiled countries in Africa.
Rwanda is home to a vast array of wildlife, including gorillas, chimpanzees, monkeys, and a host of other exotic animals. With the guidance of Augustine Tours' experienced tour guides, travelers can experience the thrill of tracking gorillas and monkeys through the lush forests and enjoy game drives in Akagera National Park, home to over 500 species of animals. In addition to wildlife viewing, the tour also includes a visit to Kigali, the capital of Rwanda, for a city tour, and a chimpanzee trekking and canopy walk.
Under the leadership of CEO Augustin Ndikuriyo, Augustine Tours is dedicated to providing tours that promote cultural and educational exchange while preserving the country's cultural heritage, wildlife, and nature. The organization's tour guides are natives of East Africa and possess a wealth of local expertise, ensuring that travelers receive an unparalleled tour experience. With excellent communication and conversational skills, a sharp sense of direction, and in-depth knowledge of the safari, Augustine Tours' tour guides are equipped to exceed customer expectations and provide a once-in-a-lifetime experience.
"In 13 years of operations, we have served travelers of all ages coming from every single corner of the world. One thing they all have in common is the fact that they all leave with a positive impression about the places they visit, thanks to our knowledgeable and flexible guides.", says Augustin.
The Trekking Gorilla Rwanda Discovery Tour includes entrance fees and national park permits, accommodation on a twin or double room basis, roundtrip transportation from Kigali International Airport, all meals, and private tour guide services. Complementaries such as mineral water and airport transfers are also included in the price, making the tour an affordable and convenient option for travelers.
In addition to the thrilling wildlife experiences, the tour also offers a chance to explore the rich cultural heritage of Rwanda. The country is known for its warm and friendly people, traditional crafts, and beautiful landscapes. Travelers will have the opportunity to visit local communities and experience the vibrant culture firsthand.
For those looking for an African safari vacation package that goes beyond just wildlife, the Trekking Gorilla Rwanda Discovery Tour offers a unique blend of wildlife, traditions, and nature. With its stunning scenery, rich cultural heritage, and abundant wildlife, Rwanda is the perfect destination for travelers of all ages.
Notes to Editors
To find out more about Augustine Tours visit the website https://augustinetours.com/
For more information or images, please email: info@augustinetours.com
Augustine Tours is renowned for providing tours that promote cultural and educational exchange, preserving cultural heritage, wildlife, and nature.