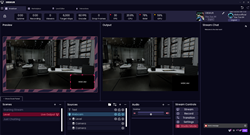 HENDERSON, Nev. (PRWEB) February 14, 2023
Movella™, a global full-stack supplier of sensors, software, and analytics for the digitization of movement, is pleased to announce early access to its new OBSKUR™ platform.
OBSKUR is a broadcast software platform that gives content creators user-friendly tools to deliver interactive experiences during livestreams on well-known streaming sites such as Twitch. The platform offers an all-in-one solution for content creators making it easy for them to add interactive elements, environments, 3D characters and monetize their streams, with minimal technical expertise.
Early access is a crucial step for OBSKUR as it continues to develop and refine its product features. This phase will allow a select group of users to test and provide feedback on the platform, helping OBSKUR to improve and meet the needs of its users.
"We are thrilled to have OBSKUR enter the early access phase," said Ben Lee, CEO of Movella. "At Movella, we enable the digitization of movement, and OBSKUR is a perfect extension of this for the livestreaming market. The OBSKUR platform gives users the ability to produce truly engaging and interactive livestream events, and we can't wait to see the amazing content that will come from this."
Movella remains at the forefront of innovation in the entertainment, health & sports, and automation & mobility markets, and the addition of OBSKUR to its offerings further solidifies its position as a leading enabler for the democratization of animation and content creation.
OBSKUR will be distributed via the Epic Games store which delivers exposure to a massive user base, robust marketing support, and a robust update system that allows us to focus on development.
Secure your place in our exclusive early access program and become a part of our community! Visit http://www.obskur.com now to apply and join the waitlist. Don't miss this opportunity to be a part of shaping the future of streaming. Apply today!
About Movella
Movella is a leading full-stack provider of sensors, software, and analytics that enable the digitization of movement. Movella serves the entertainment, health & sports, and automation & mobility markets. Our innovations enable our customers to capitalize on the value of movement by transforming data into meaningful and actionable insights. Partnering with leading global brands such as Electronic Arts, EPIC Games, 20th Century Studios, Netflix, Toyota, Siemens, and over 500 sports organizations, Movella is creating extraordinary outcomes that move humanity forward. To learn more, visit http://www.movella.com.