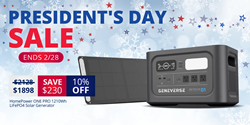 Geneverse is honoring Presidents' Day with limited-time deals starting at $799 for energy independent compact and portable clean home energy solutions, including the newly-launched HomePower ONE PRO Solar Generator model.
SAN FRANCISCO (PRWEB) February 15, 2023
At this year's Consumer Electronics Show, Geneverse was recognized by Good Housekeeping as the "Top Picks" of CES 2023, amongst the "Best Tech of CES" 2023 by Popular Mechanics, and as part of the "Best Smart Home Devices" by USA Today. If you missed Geneverse's CES debut, don't miss out on this limited time savings on the latest in smart home solar technology.
For a limited time, grab Geneverse's CES-Celebrated Indoor-Safe Solar Generators for a special price, including:

One HomePower ONE Solar Generator for $799 (marked down from $999)
One HomePower ONE PRO for $1,299 (marked down from $1,499)
One HomePower ONE PRO with one SolarPower 2 Panel for $1,898 (marked down from $2,128)
Geneverse Solar Generators are designed to be highly efficient and provide reliable clean energy inside the home and even in remote locations. The compact and portable design makes them perfect for emergency backup power. With inclement weather sweeping the country and the rise in natural disasters, the need for versatile alternative energy sources are in high demand. This sale is the perfect opportunity to ensure any type of home is prepared with reliable backup power at one's fingertips.
For more news, information, and updates, check out Geneverse.com and follow us on Twitter, Facebook, and Instagram to see Geneverse in action.
About Geneverse:
Geneverse is innovating the smart home space and redefining the generator industry with indoor-safe compact solar generators that deliver no-fuss power. With energy storage solutions suitable for a wide variety of circumstances, Geneverse aims to make home energy usage smarter and more sustainable, and make an energy independent future available to all.