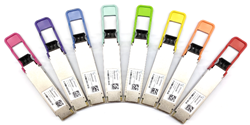 The 8x100G ER1 nWDM QSFP28 product solutions with passive O-band WDM, enabling up to 400G bidirectional transmission with single fiber for up to 40km, so customers can deploy service fast, save significant cost, and enjoy "pay as you grow" economics.
ANDOVER, Mass. (PRWEB) February 15, 2023
SiFotonics announced today that its 8x100G-ER1-nWDM QSFP28 optical transceivers were recognized among the best by the 2023 Lightwave Innovation Reviews. An esteemed and experienced panel of judges from the optical communications community recognized SiFotonics as a high-scoring honoree. Lightwave Innovation Reviews was developed to recognize the top products and services within the optical networking industry as determined by a panel of experts from a wide variety of service providers, technology developers, industry analysis firms, and media. Entries are reviewed based on originality, innovation, positive impact on the customer, how well the product addresses a new or existing requirement, novelty of approach, and cost-effectiveness.
The 8x100G ER1 nWDM QSFP28 product line is an extension of industry leading 100G ER1 product line, and offers significant additional benefits for customers to deploy high bandwidth in wide range of 5G xHaul and data center connectivity applications economically. The product solution is designed with low dispersion O-band WDM, enables up to 8x100G data transmission over a single pair fiber, or 4x100G bidirectional transmission with single fiber for up to 40km, so customers can deploy service fast, save significant cost, and enjoy "pay as you grow" economics. SiFotonics advanced Ge/Si APD receiver is a key enabler to increase link budget and extend transmission distance. With PAM4 digital signal processing, 8x100G ER1 nWDM QSFP28 offers significant advantage in lower latency, lower power, lower cost, and can be readily installed into mainstream 100G QSFP28 ports. This product line can also inter-operate with our newly developed 8x100G-ER1-nWDM SFP56-DD product line (see https://www.prweb.com/releases/2023/2/prweb19132682.htm), providing customers with added flexibility for network service deployment.
"On behalf of the Lightwave Innovation Reviews, I would like to congratulate SiFotonics on their high-scoring honoree status," said Lightwave Editorial Director, Stephen Hardy. "This competitive program allows Lightwave to celebrate and recognize the most innovative products impacting the optical communications community this year."
About Lightwave
Through our integrated media portfolio, Lightwave delivers content focused on fiber optics and optoelectronics, the technologies that enable the growth, integration and improved performance of voice, data and video communications networks and services. Our experienced editorial team provides trusted technology, application and market insights to corporate executives, department heads, project managers, network engineers and technical managers at equipment suppliers, service providers and major end-user organizations. Our unique ability to inform our audience's business-critical decisions is based in our 35+ year relationship with the entire optical community— technology vendors, communications carriers and major enterprises—and our recognition of the interplay among its members.
About SiFotonics
SiFotonics Technologies Co., Ltd. is a leading solution provider for ultra-high-speed data center and 5G wireless optical networking applications with advanced silicon photonics integrated circuits and components as well as customized solutions. SiFotonics was established in 2007 in Massachusetts, US, and has offices and facilities at Boston, San Jose, Taiwan Hsinchu, Hong Kong, Nanjing, Beijing and Shanghai. SiFotonics web site is http://www.sifotonics.com. For more information, please contact rangchen.yu@sifotonics.com.