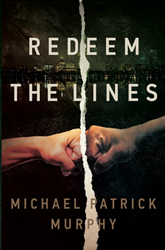 This story is for adults to laugh and cry at this crazy journey in American society in this lifetime, but it is up to all of us now to make sure things don't stay the same
BOSTON (PRWEB) February 15, 2023
Boston in the 1990s….the city is racially charged due to the aftermath of court-ordered school busing…the murder rate hit an all-time high….the disappearance of Whitey Bulger lead to the proliferation of neighborhood gangs….the Boston Police Department struggled to maintain peace…these factors set the stage for Redeem the Lines, the second book by author Michael Patrick Murphy, now available on Amazon, Barnes & Noble, Books-A-Million, Bookshop, Indiebound and at michaelpatrickmurphybooks.com. Redeem the Lines, published by Greenleaf Book Group, is the sequel to his critically acclaimed inaugural book Neighborhood Lines.
The new book picks up where Neighborhood Lines ended, following the lives of protagonist Patrick and his old high school friend Nate. Patrick is an Irish Catholic boxer fresh out of prison for something he didn't do and returns to his old neighborhood which he barely recognizes with the widespread flooding of heroin and its zombie addicts. At the same time, Nate who is Black goes to college out of state and comes back to Boston to attend yet another funeral. When Patrick flies to Ireland to pull a money drop orchestrated by his IRA-connected former cellmate, Nate digs deeper into the Boston gang underground to uncover the truth about his cousin's death. Fueled with vengeance for their cousins who were murdered by one another's associates, the old friends collide in the last place they ever thought they'd find themselves, but they manage to see beyond their ravenous craving for swift justice and together tackle the true cause of all the violence. Breaking down neighborhood boundaries and racial biases, Redeem the Lines thrusts readers through whiskey benders, bare-knuckle brawls, and midnight rendezvous to expose the true colors of prejudice and corruption and the key to resolving both.
"After a century of continued racial conflict, I decided to recreate the second act of the original Neighborhood Lines tale and finish the journey of this commendable friendship between the two characters Patrick and Nate, said Michael Patrick Murphy.
"The first book, Neighborhood Lines, was for youth and aimed to capture the culture of the era and show how the more things change the more they stay the same. This story is for adults to laugh and cry at this crazy journey in American society in this lifetime, but it is up to all of us now to make sure things don't stay the same," he said.
See what people are saying about Redeem the Lines:
"Redeem the Lines is an eye-opening and inspiring read. The friendship of Patrick and Nate occurs during a time of troubled cultural lines in 1990s Boston. Through Patrick and Nate's differences, their souls bond and show how human relationships can grow through conflict resolution and open minds."
—Chenoa Maxwell, livelimitlessly.com
"Nate and Patrick, the lead characters in this story, have pushed me to think about what I truly stand for, as well as what I have come to tolerate in my world. Michael Patrick Murphy couldn't have written such an insightful tale had it not been for his own personal transformation. After reading Redeem the Lines, it dawned on me that the more things change, they do not have to stay the same. As such, I have befriended the characters in this story, and they inspire me to be the change that I truly want to see in the world. The colorful people and riveting events make this book hard to put down. Pick it up—there may very well be something inside of this story that is meant for you."
—James McPartland, founder, Access Performance International
"I am part of a family that participated in the METCO program, and I can attest that this is a riveting story that reveals that friendships can be forged despite being from different neighborhoods during the desegregated 1990s Boston. Murphy perfectly captures Patrick and Nate's challenges in their respective worlds as they both struggle to do what's right for their city, their families, and themselves."
—Fred Forsgard, thespian, Boston, Massachusetts
"As a middle-aged man born and living in Ireland. I can attest that the story line, with fascinating detail about Nate and Patrick, almost mirrors in reverse the journey of many Irishmen to the USA. Mike Murphy tells a gripping story of underworld situations as well as life in rural and urban Ireland in the 1990s. Reading some of the sections took me back to bars and nightclubs I visited and historical family situations I experienced. The story is descriptive and superbly crafted and provides honest backdrops for a changing and historical period in transatlantic travel and the situations people faced to try build a better life and livelihood."
—Niall Cull, CEO, DLR Leisure, Dublin, Ireland
Murphy published Neighborhood Lines in 2018, prior to the uprising over the murder of George Floyd which catalyzed a racial reckoning across the country. His hope at that time, and even today, is that both novels will serve as a tool to open truthful authentic dialogues about race, class and the common ground that can be achieved by working together to solve conflicts. In 2022, Murphy produced an audio version of Neighborhood Lines narrating the book himself along with Cornell Mills, his high school friend who was the inspiration for the book's character Nate.
ABOUT MICHAEL PATRICK MURPHY
Michael Patrick Murphy was born in a community south of Boston and comes from a family with strong ties to South Boston. He spent his high school and college years living and around the areas of Dorchester, South Boston, and Boston. Inspired by stories his grandmother told him of the city's history, and of his great-grandfather, Boston City Councilor Michael Mahoney. Murphy originally wrote Neighborhood Lines while in college at UMass Boston, ultimately publishing it in 2018. In 2022, he produced an audio version of Neighborhood Lines and in 2023, published its sequel, Redeem the Lines. Both books can be found on Amazon and michaelpatrickmurphybooks.com.